Being a mother is one of the most amazing experiences life can offer. Watching your little ones grow up and spending precious time teaching them new things brings a mom joy unlike any other. However, childbirth is not always kind to a woman's body, especially after multiple children and can take its toll. 
Do you long for your pre-pregnancy body? Or have you told yourself after this last child you're going to get that breast augmentation or tummy tuck you have been thinking about? Don't worry; you're not alone. Millions of mothers have tried to get their bodies back to the way it was pre-childbirth and have struggled. It can be very challenging if not impossible to get back your body without the help of a mommy makeover.
Though most days, you're a super mom, this may make you feel less confident in your body. A mommy makeover can help restore those parts of your body that aren't bouncing back after childbirth. It can boost your confidence, make you feel like you again, and after all your sacrifice, you deserve it.
So, what is a mommy makeover? A mommy makeover is a combination of different cosmetic procedures meant to enhance, lift, and/or tighten the areas of the body that are most affected by childbirth. The processes involved in a mommy makeover can include any combination of the following procedures: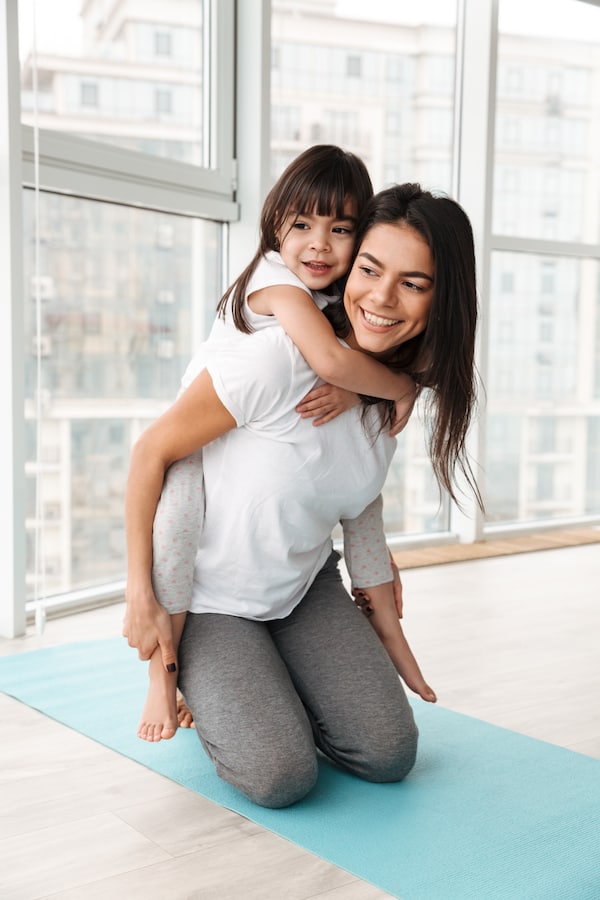 If you've noticed your breasts have begun to sag after breastfeeding. Then a breast lift or breast lift with an implant can help restore a more youthful appearance. Some women also notice a loss of fullness in their breasts, which is why they consider breast augmentation as part of their mommy makeover. A body lift works to tighten the skin in the lower abdomen, buttocks, and upper thighs. It is different from a tummy tuck, which solely focuses on the stomach. 
During a tummy tuck, your surgeon might even repair abdominal muscles that have been overstretched or torn during pregnancy. This is exceptionally helpful in reducing that "pooch" you might have noticed since torn abdominal muscles will not fully heal on their own. 
If you're vaginal lips (labia) have developed extra folds of skin from stretching during childbirth, then you can get a vaginal rejuvenation to enhance the appearance. 
When you decide to get a mommy makeover, you and Dr. Larsen can determine which procedures work best for you and your needs. It is also essential to note that you are not qualified for a mommy makeover unless it has been at least six months since you've given birth. This is so your body has had the proper time to recover. Operating too soon after childbirth may lead to inconsistent results.
The Buckhead Plastic Surgery Team
Buckhead Plastic Surgery is the premier cosmetic surgery center of the prestigious Buckhead neighborhood here in Atlanta, Georgia. The Buckhead Plastic Surgery team is committed to giving you the most comfortable experience possible with your mommy makeover. We also have the experience and qualifications necessary to ensure your procedure runs smoothly and safely. So, they take the time to get to know some of us for yourself:
Renee, Director. Renee oversees all business operations and sales tasks, beauty events, and public relations efforts. Renee has a passion for helping patients get the best out of their experience with Buckhead and demonstrates this through her leadership and dedication. 

Kim, Front Office Coordinator. As an extrovert who is passionate about building relationships, Kim is perfect for making patients feel welcomed and at ease before and after treatments. 

Sonya, Registered Nurse and Master Cosmetic Injector. Sonya obtained her Bachelor of Science in Nursing from Vanderbilt University and has been working with Dr. Larsen since 1998. With her experience, Sonya can use a wide variety of injectables, including BOTOX® Cosmetics and dermal fillers, to give patients optimal results. Sonya's master skills have led many patients to return to Buckhead Plastic Surgery for their cosmetic treatments. 
Lauren, Certified Physician Assistant. Lauren earned her Masters of Medical Science in Physician Assistant Studies from Nova Southeastern University. She is nationally certified and specializes in nonsurgical cosmetic procedures. She is Buckhead Plastic Surgery's expert injector. 
Denise, Licensed Medical Aesthetician, Laser Technician, and Nationally-Certified Massage Therapist. Aside from her impressive qualifications, Denise has over 15 years of experience in skincare, body contouring, and massage therapy. 

Kristy, Certified Massage Therapist. Kristy is skilled in various forms of massage therapy, including trigger point, Swedish, deep tissue, Thai stretch, lymphatic, myofascial release, and sport massage techniques. She is certified by the International Academy of Neuromuscular Therapy and has been working in the field since 2001.
Meet Dr. Larsen
Dr. Larsen will be the well-practiced hands behind your mommy makeover procedure. Dr. Larsen enters the operating room with over 20 years of experience, and he makes it his mission to make sure patients are well-informed, comfortable, and safe. 
Dr. Larsen received his medical degree from the University of Nevada School of Medicine before going on to complete his residency in general surgery at the University of Florida Health Sciences Center, Jacksonville. He then completed a plastic surgery fellowship at Wake Forest University's Baptist Hospital. Afterward, Dr. Larsen chose to expand his expertise by training under renowned plastic surgeons across the country.

Why Choose the Buckhead Plastic Surgery for Your Mommy Makeover
The team at Buckhead Plastic Surgery has the skills to give you exceptional results for your mommy makeover. We also have the patience and understanding to ensure your procedure runs smoothly every step of the way. 
Here at Buckhead Plastic Surgery, we know that practiced hands make for good results. However, connecting with patients and listening to their wants and needs also makes for great results. If there are ever any questions or concerns you have, we will answer them honestly and thoroughly. We strive to make sure you understand every aspect of your treatment before you commit to anything. 
Should you have any more questions about your mommy makeover, give us a call at 404.367.9005, and ask. We would be delighted to answer any questions you may have.