When it comes to looking youthful, trim, and fit, most people desire a flat stomach that enhances their silhouette. As we age, even with diet and exercise, it can be hard to maintain a flat stomach. As fat cells increase in size and volume with time, getting rid of stubborn fat in the abdominal area can be extremely frustrating. In some cases, liposuction is the best solution to the tummy of your dreams. 
At Buckhead Plastic Surgery, we treat many patients with this aesthetic procedure with stunning results. Before your journey with liposuction, it is important to fully understand how it works and if you are a good candidate. There are some common misconceptions about it, so here are 5 things to know about stomach liposuction. 

What Is Liposuction?
Liposuction is a tried and true surgical procedure that breaks down and removes fat from parts of your body. Most patients get liposuction in areas that are resistant to diet and exercise like the abdomen, hips, thighs, arms, chin or neck. Liposuction removes these isolated pockets of fat with a microcannula inserted into the treatment area. This process loosens the fat cells so they can gently be suctioned away. 
Some liposuction techniques use ultrasound, radiofrequency, or laser energy to melt the fat first for easier elimination. Tumescent liposuction is when your surgeon injects a sterile solution into the area where the fat is to be removed. It may consist of saline, lidocaine and epinephrine. This specific kind of solution makes it easier to suction the fat with less blood loss and pain.
Ultrasound-assisted liposuction (UAL) uses sound wave energy under your skin to rupture the cell walls of the fat. This liquefies the fat so it can be suctioned out. Laser-assisted liposuction, or SmartLipo, uses a laser to produce a burst of energy to melt the fat.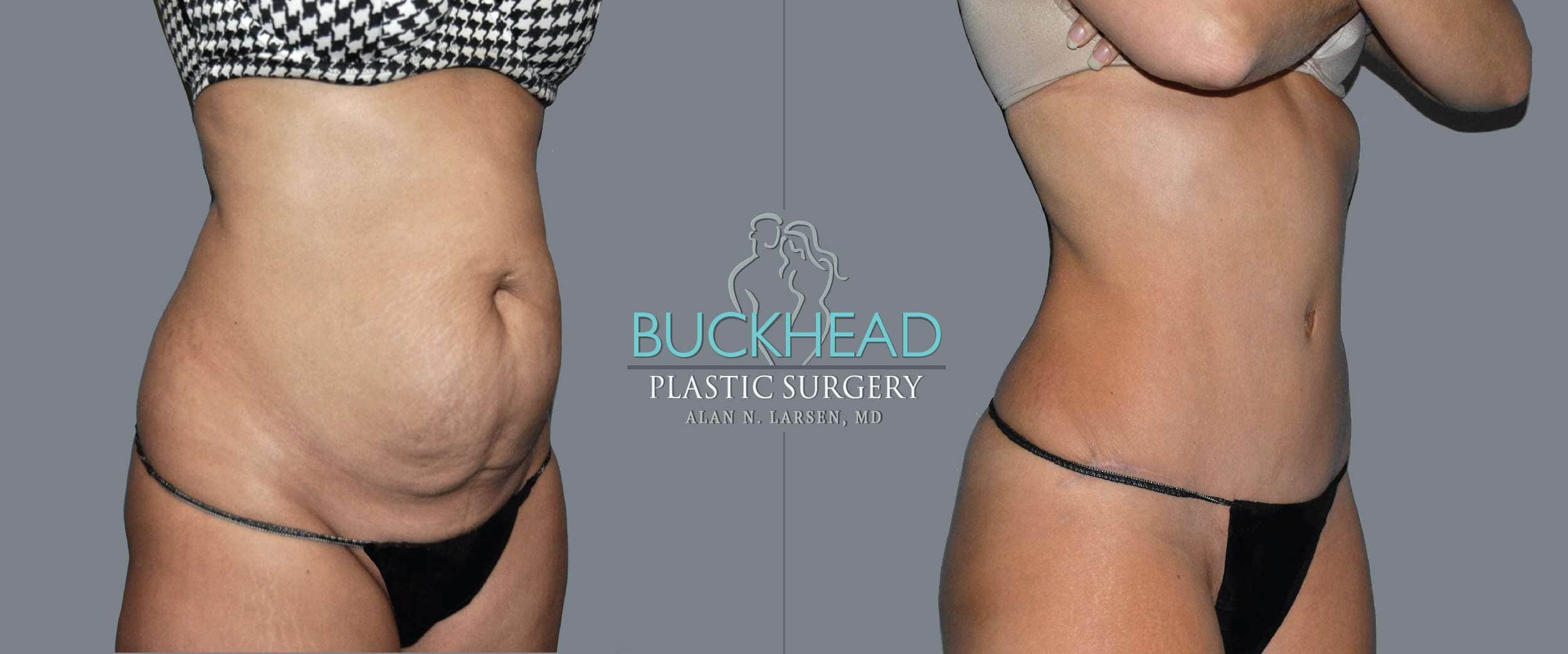 Liposuction Is Not a Weight Loss Surgery
One of the misnomers about liposuction is that it is a surgery used for weight loss. While liposuction can remove small pockets of fat, it is a cosmetic surgery intended for a slimmer aesthetic. Liposuction helps reshape your body by contouring it. In the case of stomach liposuction, if diet and exercise are not providing the desired result, liposuction may help achieve that goal. 
However, there are other factors to consider, like the type of fat you are dealing with (subcutaneous fat or visceral fat), your skin's elasticity, and your weight fluctuations or potential fluctuations. Even if you are an ideal candidate for stomach liposuction, the procedure does not prevent you from gaining back weight in your stomach or gaining weight overall. It is not a "quick fix" that lasts indefinitely, because it requires maintenance for lasting results.

Liposuction Does Not Get Rid of Cellulite
While liposuction can remove pockets of fatty tissue, it cannot treat the appearance of cellulite. Cellulite is actually caused by subcutaneous fat pushing against connective tissue bands, which then cause deformations (dimples) in the skin. Since liposuction only removes soft fat tissue, the fat pushing against the fibrous bands is not affected. 
This is one of the important '5 things to know about stomach liposuction' because liposuction can actually worsen the appearance of cellulite in some cases, making the dimpling more obvious. However, adding a laser treatment to liposuction may help get rid of cellulite. 
Liposuction Does Not Reduce Sagging Skin
Another important thing to know about liposuction is it only removes fat, not sagging skin. As you age, the amount of collagen your body produces decreases, which results in less skin elasticity. Sagging skin may not be completely treated through liposuction. To achieve your desired results, you may need a skin tightening procedure to address sagging skin if liposuction cannot fix the area.
For some, liposuction needs to be combined with either a tummy tuck or a laser contouring procedure for the abs of your dreams.

Liposuction and Tummy Tucks Are Different Procedures
A common misconception about stomach liposuction, as explained above, is what the realistic results will look like. For some patients, by removing small pockets of fatty tissue, they will achieve the sleek, slim silhouette they desire with more defined ab muscles. But for patients with excessive sagging skin, they might be envisioning results from a tummy tuck, not stomach liposuction. 
That's why one of the '5 things to know about stomach liposuction' is it does not necessarily give you the transformative results a tummy tuck provides. A tummy tuck is ideal for people who want to flatten the area above and below the belly button. During this procedure, your surgeon will tighten the muscles and remove excess skin. While liposuction can be used during a tummy tuck to aid in contouring your physique, the removal of excess, sagging skin and tissue is only performed during a tummy tuck.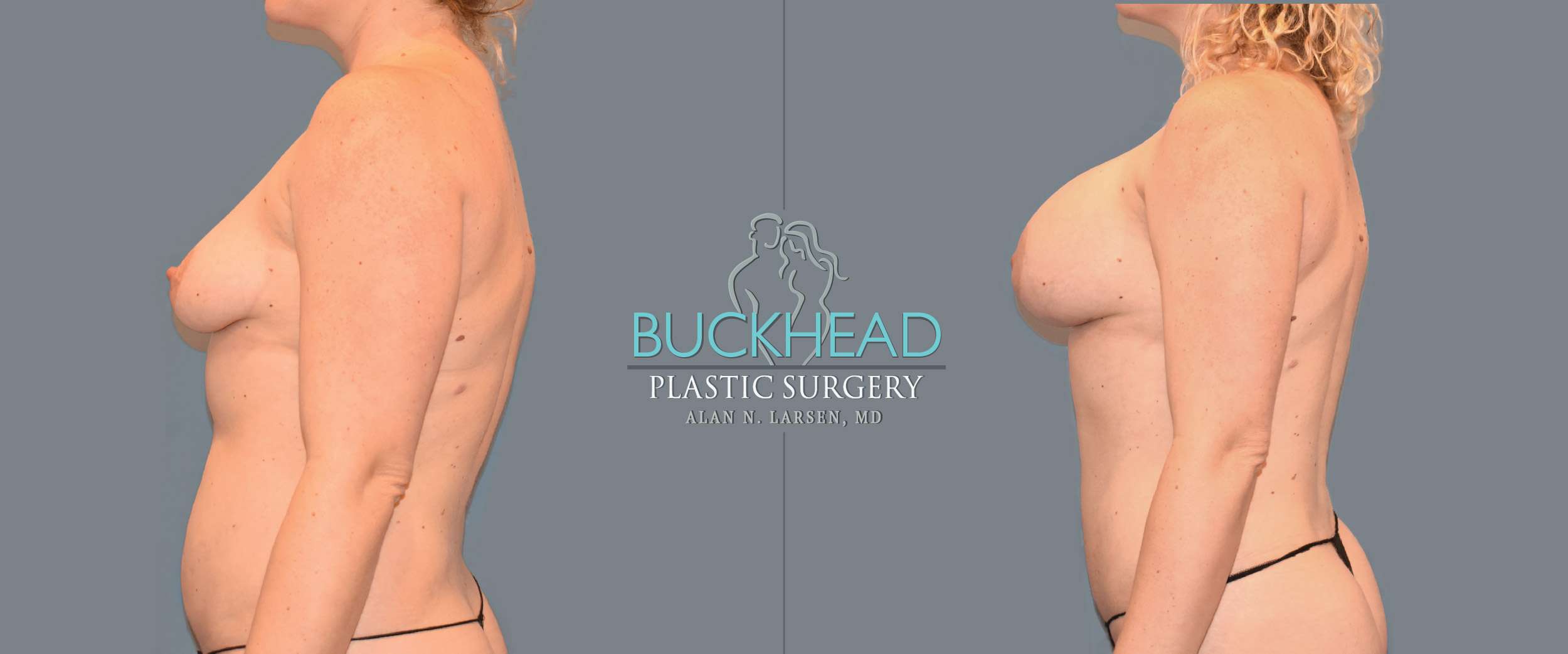 You Can Still Gain Weight Back After Liposuction
One of the most important things to know about stomach liposuction is there is still required maintenance after the surgery and recovery. After stomach liposuction, your body will have about 70% less fatty deposits in the abdominal area. But you can still gain weight, and if you do, your body will store the same amount of fat in the same places it usually does. This means if you were to gain weight, your stomach would be smaller than it would be without the surgery, but it can still gain back fatty tissue. 
This is why ideal candidates for stomach liposuction already follow a healthy diet and exercise regularly. They are within 30% of their ideal weight and have maintained that weight for the last 1-2 years. Plus, they have firm elastic skin and good muscle tone. All of these things contribute to achieving fantastic results for beautiful, contoured abs.
Why Choose Buckhead Plastic Surgery For Your Stomach Liposuction
Buckhead Plastic Surgery is the premier choice for liposuction procedures in the Atlanta area. Dr. Alan Larsen is a double board-certified plastic surgeon with a reputation for impeccable skill and an eye for detail. He will present you with all your options and help you visualize and understand realistic results. Call us today at 404.367.9005 to schedule your consultation or book a consultation online. We are confident you won't be disappointed.