Having a well-shaped backside is something both men and women desire for a youthful, fit physique. Over the years, the Brazilian Butt Lift has become a popular option for healthy patients who cannot achieve the round buttocks they want with diet and exercise alone. At Buckhead Plastic Surgery, we are pleased to offer this procedure with amazing results. In fact, when patients ask us how long does a Brazilian Butt Lift (BBL) last, we are pleased to tell them results from a BBL can last for many years.

What Is A Brazilian Butt Lift?
A Brazilian Butt Lift (BBL) is a procedure that improves or augments the appearance of your buttocks for a rounder overall look. It also removes fat from other parts of your body with liposuction. The fat removed is used to add volume to your buttocks. Unlike a facelift or a back lift, a Brazilian Butt Lift does not improve an excess of sagging skin. The fat transfer procedure enhances your size and shape, giving you a fuller, curvier silhouette.

What Is the Brazilian Butt Lift Procedure?
While learning about this procedure, patients at Buckhead Plastic Surgery are excited to hear about how long a Brazilian Butt Lift (BBL) lasts. Some cosmetic procedures require multiple sessions to achieve desired results, but the Brazilian Butt Lift only requires one surgery that can last for many years. The effectiveness of the BBL is due to the technique Dr. Alan Larsen uses and his ability to customize the BBL procedure for your body.
Like most cosmetic procedures, the Brazilian Butt Lift starts with anesthesia. Then Dr. Larsen will begin extracting donor fat cells using liposuction. The "donor" fat he uses is typically collected from areas of your body that have some excess fat like the lower portion of the back, the hips, or the area below the buttocks. If more fat is needed to be grafted back into the buttocks, other areas may also be liposuctioned. 
By liposuctioning the hips, lower back, and the area below the buttocks, Dr. Larsen can contour your body which helps to accentuate the buttocks further and enhance your Brazilian Butt Lift results. The combination of slimming some curves by removing fat and adding that fat into the buttocks for increased volume, size, and firmness transforms your overall look. After recovery, our BBL patients are eager to try on jeans and pants to see their newly enhanced shape.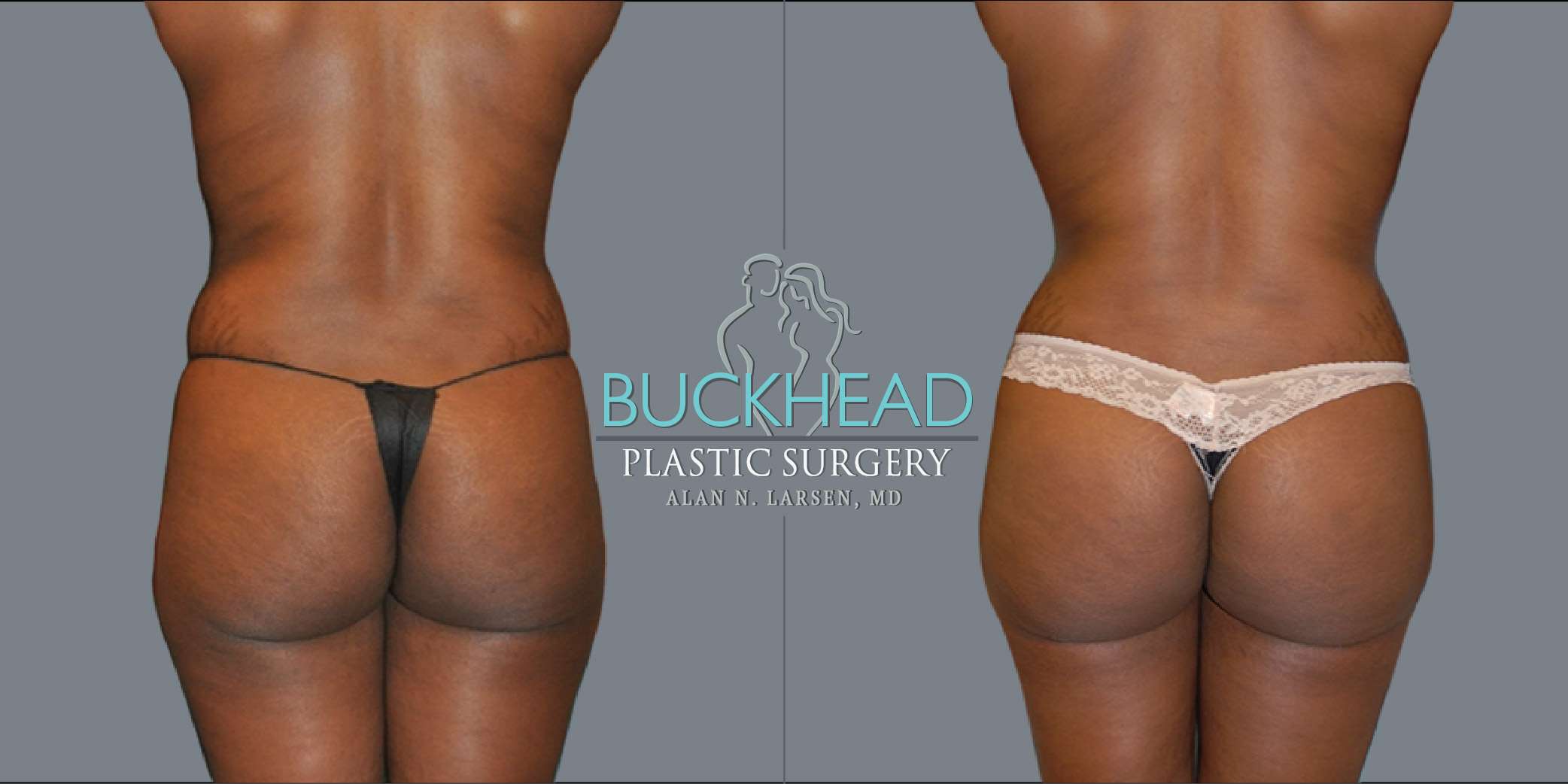 BBL Before & After Results, By Alan N. Larsen, MD
What Is The Recovery Like For A BBL?
At Buckhead Plastic Surgery, we tell our patients that the recovery is moderate for most of them. When patients are excited about how long a Brazilian Butt Lift (BBL) lasts, we encourage them to fully participate in the healing process because this helps ensure lasting BBL results. Following the recovery guidelines is the final step towards a fuller, well-shaped backside.
During the first part of recovery, your backside will be tender and in the areas where liposuction was performed, you may also experience some discomfort and swelling. We want you to be as comfortable as possible during this time, so Dr. Larsen can prescribe pain medications to ease you through the process.
For optimal results that ensure your Brazilian Butt Lift (BLL) lasts for many years, it is important not to lie or sit on your buttocks for six to eight weeks after the procedure. During this time, the fat transferred to its new location is seeking a blood supply needed to grow and thrive. The act of pressure on your backside from sitting will interfere with this process. If blood is not properly supplied to the new fat cells, they will not survive, and you may lose desired results.
About six months after the procedure, the results are considered final. This means any residual swelling has subsided, and your body has had a chance to heal any incisions. The fat transfer will have had ample time to adjust to its new environment. The results at this time are expected to last for many years, and patients are happy to hear how long a Brazilian Butt Lift lasts, especially as they begin to try on clothes to see their new, curvier shape.
Of course, things like extreme weight fluctuations can affect your surgical results. A Brazilian Butt Lift (BBL) will last the longest if a healthy diet with nutrient-rich foods is maintained. Exercising and avoiding smoking are also important factors to consider after a BBL for optimal and lasting results.
Am I A Good Candidate for BBL?
If a well-rounded backside is something you desire for a more athletic silhouette, a Brazilian Butt Lift at Buckhead Plastic Surgery might be exactly what you want. Being a good candidate for a BBL helps to ensure ideal results that last for years.
A good candidate is a healthy non-smoker who follows a healthy diet and exercise regimen. The average patient is a female ranging from 20-35 years old. In some cases, men opt for a BBL as well. It is normal to have sagging below the buttocks, but the buttocks themselves need to be in good condition with good elasticity. Dr. Larsen will be able to evaluate your skin to determine if the fat transfer and liposuction will deliver your desired results. In some instances, a surgical butt lift may be needed after a Brazilian Butt Lift. This could be required to tighten the skin and lift the buttocks if the skin in the buttocks area is exceptionally loose.
Why Should I Choose Buckhead Plastic Surgery for My Brazilian Butt Lift?
Dr. Larsen is a double board-certified plastic surgeon with a decorated career working with some of the most elite surgeons in the world. He has impressive surgical skills and an excellent reputation with his patients. He is known not only for his technical skills but also for his compassion. Call us today at 404.367.9005 to book your consultation and find out if a Brazilian Butt Lift (BBL) is right for you. We want you to feel and look your best.