Are you wanting to transform your skin and undo everything standing in the way of looking flawless in 2023? If you are bothered or frustrated with scarring, the road to radiant skin might be easier than you think, thanks to today's innovative laser treatments. 
Over time, most people have scars from various things that happen during one's lifetime. Whether it is a scar from a skinned knee on the playground or stubborn acne scars from teenage and young adult years, everyone tends to have them. For some, scars are just part of life, so they are easy to ignore. But scarring on the face can be frustrating and chip away at one's confidence. Even with the best, most expensive makeup, facial scars are nearly impossible to cover up. 
At LUX Med Spa, we offer the top 5 best laser devices for scar removal in Atlanta. We are pleased to offer our clients these non-invasive options for diminishing the look of scars, helping them reclaim their confidence, and putting their best face forward.

How Do Laser Devices Remove Scars?
Laser treatments have become the most sought-after med spa services for scar removal. The best laser devices are precise and customizable so that they can be targeted at various depths in the skin on the body and on the face. This means better and longer-lasting results. 
Laser devices work by inserting or poking small holes with light energy to cause tiny injuries on or around the scar. This process stimulates collagen production, and as the skin attempts to heal itself, the look of scarring can diminish with time. Scars that are raised may flatten, and pigmentation from darker scars may fade. The combination of easing the look of the scar itself and improving skin tone and texture delivers visible results.
Top 5 Best Laser Treatments in Atlanta
At LUX, we suggest the following facial laser treatments for easing scars. We consider them to be the top 5 best laser devices for scar removal and our patients agree.
Contour TRL Laser Resurfacing
Contour TRL (tunable resurfacing laser) is a powerful cosmetic device that will take years off your appearance, giving you back the youthful skin you once had. 
Unlike many skin resurfacing lasers and chemical peels, Contour TRL Laser Resurfacing is a customizable treatment that can be fine-tuned to your specific goals.
Contour TRL works by safely removing the top layers of skin. These are the layers that make us look older due to wrinkles, fine lines, sun spots, and scarring. Your LUX provider can customize the depth. This customization is beneficial if you have deeper damaged skin on areas of your face, neck, chest, or arms, including scars. The laser removes dead epidermis layers, and this process helps the skin promote new collagen. Collagen makes our skin look and feel smoother, tighter, and refreshed. 
During recovery, your healthy new skin cells will grow, replacing the dry, uneven skin that is robbing you of your otherwise youthful appearance.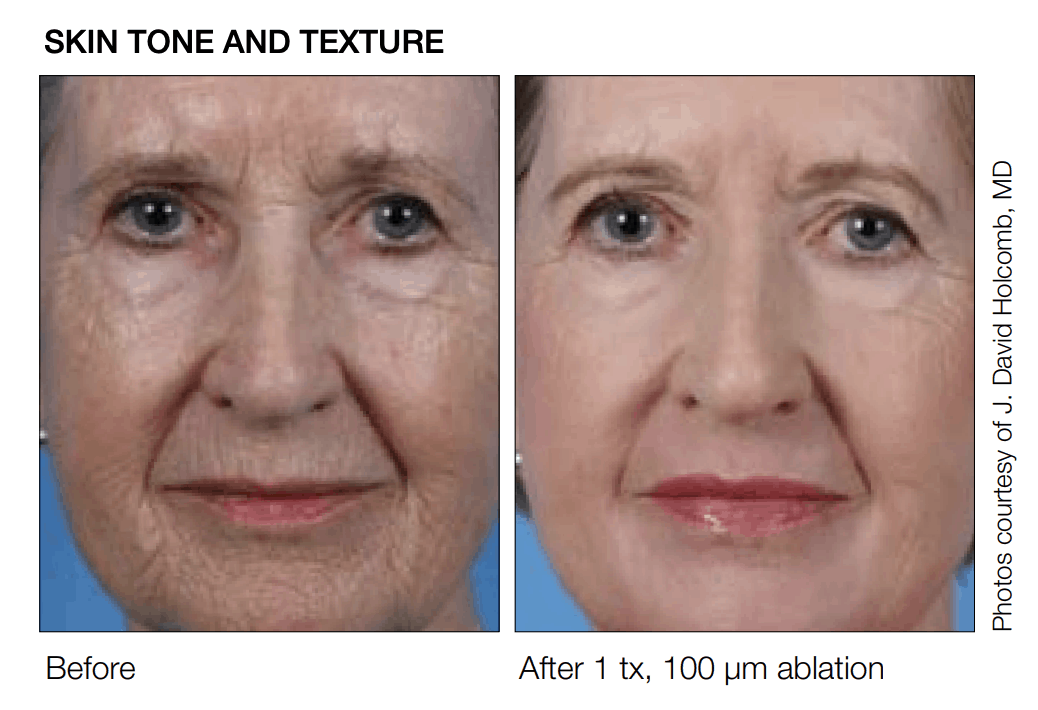 HALO Hybrid Fractional Laser
The HALO treatment is the first Hybrid Fractional Laser available on the market today, and it can do some things other laser treatments cannot. This is why HALO is considered one of Atlanta's top 5 laser devices for scar removal.
HALO Hybrid Fractional Laser is a skin resurfacing laser that uses two distinct wavelengths (ablative and non-ablative). The adjustable ablative works to remove the top layer of skin and non-ablative gently heats underlying skin tissue to stimulate more collagen production with wavelengths to a tiny area of skin per application. These wavelengths allow us to target your skin concerns on multiple levels. What sets HALO apart is it offers more noticeable results with less downtime.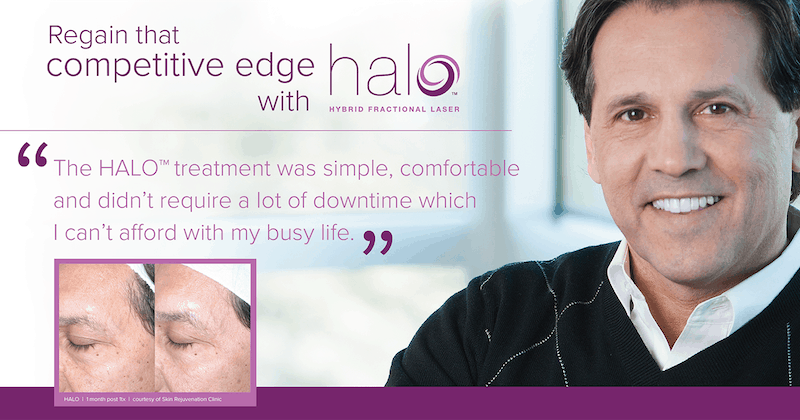 Morpheus8 Fractionated Skin Remodeling
Morpheus8 is a radiofrequency microneedling device for skin, tissue and collagen remodeling, delivering the deepest fractional treatments available by penetrating the subdermal tissue up to 8 mm. 

Morpheus8 Fractionated Skin Remodeling uses "burst technology," which targets tissue sequentially at three levels.
This minimally invasive radiofrequency technology works to remodel collagen while coagulating adipose tissue. With only a few treatments, you can experience skin tightening and resurfacing with better results. It is used to improve the skin's appearance, including aesthetic concerns like scarring. This unique laser treatment provides a significant reduction in time spent during the treatment, as well as recovery, because it minimizes skin injury and increases treatment uniformity. Because of its fully customizable treatment options, Morpheus is one of the top 5 best laser devices for scar removal.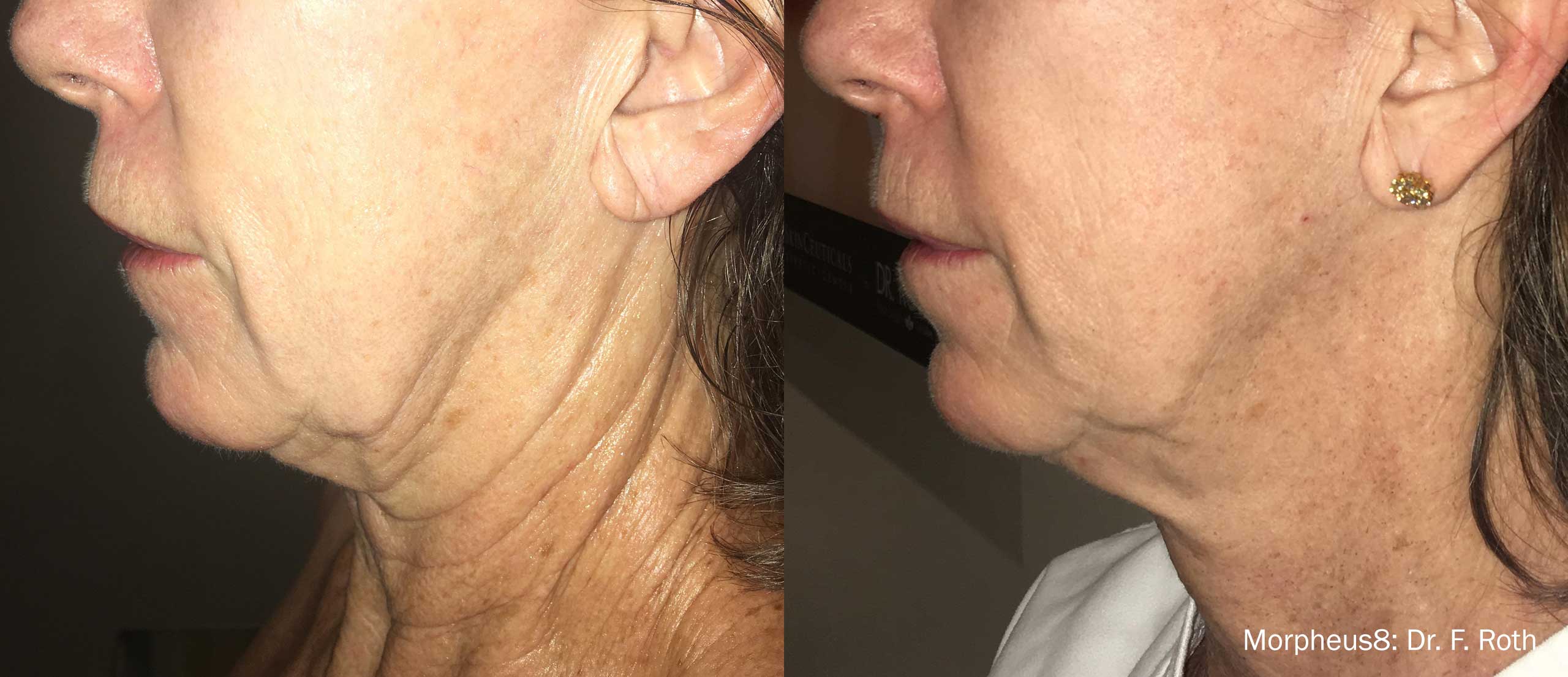 MOXI Skin Revitalization
MOXI has been coined as a "prejuvenation" treatment which means it fights the sign of aging before they appear. This procedure comfortably delivers non-ablative fractionated laser energy to the skin to promote new cell growth and reduce unwanted pigment. 
As a result, MOXI by Sciton allows you to correct uneven pigmentation, improve skin texture and diminish the look of scarring without the lengthy downtime and recovery associated with more aggressive ablative laser procedures.
Because MOXI is gentle and requires no anesthetic, providers have taken to calling it the "perfect lunchtime facial." But MOXI is more than just a facial. It is an effective laser treatment for long-term skin maintenance that extends the results of more aggressive laser procedures. 
Since MOXI revitalizes skin without breaking the surface, making the post-care regimen simple and easy. Most patients require a series of 3-4 treatments, with subsequent annual treatments for ongoing maintenance.
Our Lead Aesthetician & Laser Technician Natasha answers all of your MOXI Laser Questions in this complete FAQ video.
BBL is a non-invasive procedure that uses broad-spectrum visible and infrared light to selectively and gently heat layers of skin. This innovative process sends light energy deep into the skin, which boosts your body's natural healing. BBL helps trigger your skin's regenerative abilities because it stimulates collagen production. Increased collagen helps diminish uneven skin tone and texture, leaving you with more radiant, youthful skin.

Our patient's lifelong freckles and sun damage have improved dramatically after her BBL procedure with Natasha.
Why Should I Work With LUX For My Scar Removal In Atlanta?
Dr. Larsen is a double board-certified plastic surgeon and has carefully assembled his team at LUX. He only works with the industry's best professionals, and the LUX team shares his high standards for excellence in patient care and optimal results. Our entire spa experience is designed for your comfort for optimal results. Call us today at 404.367.9005 to book your consultation and see what a difference a visit to LUX Med Spa could make for you.
The LUX Med Spa Membership Program is a great way to maintain a consistent skin care regimen at affordable prices.
LUXurious Skin Members can take advantage of exclusive savings every month on some of our medical spa's most popular treatments.
The LUX Med Spa Membership Program is a great way to maintain a consistent skin care regimen at affordable prices.
LUXurious Skin Members can take advantage of exclusive savings every month on some of our medical spa's most popular treatments.