As we age, our skin cells do not regenerate as quickly as they once did. Our body naturally produces less collagen and our genes and environment take a toll on the appearance of our skin. This can result in the visible signs of aging, a loss of a youthful glow, sunspots, and sagging skin. Our skin is affected by more than just our genetics but also extreme climates, UV rays, stress, and environmental toxins. This is why skin resurfacing treatments have been gaining in popularity.
In the past, the most effective treatments for aging skin were invasive facelift surgeries or ablative laser resurfacing. Although both of these procedures are extremely effective, they have a prolonged time needed for patient recovery and delayed results. That all changed when the HALO Resurfacing Laser came along. It's been changing our patients' lives and it just might change yours as well.
The HALO Resurfacing Laser is the world's first Hybrid Fractional Laser. It is revolutionizing skin resurfacing by delivering both non-ablative and ablative wavelengths to the same microscopic treatment zone. The HALO is giving patients the results they love from previous treatments without the discomfort or downtime they would normally expect. Want to know more?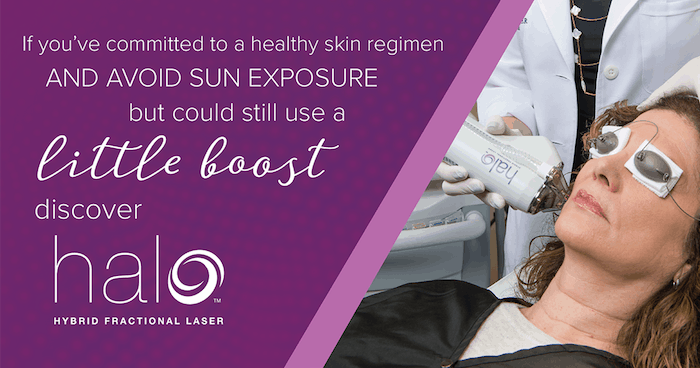 What is resurfacing?
Traditional skin resurfacing is a laser treatment that removes the skin layer by layer in a precise area. The new skin that forms during the healing process gives the appearance of a tighter younger-looking surface. Traditional Ablative Laser resurfacing often resulted in an uncomfortable healing process where the facial skin was left red, swollen, and itchy. There was also a possibility for unpleasant side effects such as acne, changes in skin tone, scarring, or infection. As impressive as the results were for most patients, there was room for improvement within the current treatments which is why the HALO Resurfacing Laser is so impressive.
What makes Halo different?
In the past, patients had to choose between a treatment with impressive results and a prolonged downtime or a treatment that offered little downtime with only marginal results. The HALO provides the best of both worlds.
HALO has the ability to precisely target areas of your skin that have undergone years of damage such as discoloration, sun damage, enlarged pores, poor texture, fine lines and wrinkles, and more. HALO is only gaining in popularity because of its incredible results with little to no downtime. It provides an unmatched laser resurfacing experience for patients that is both comfortable with low downtime while still providing incredible results. The downtime is so short that most women feel comfortable wearing makeup within 24 hours of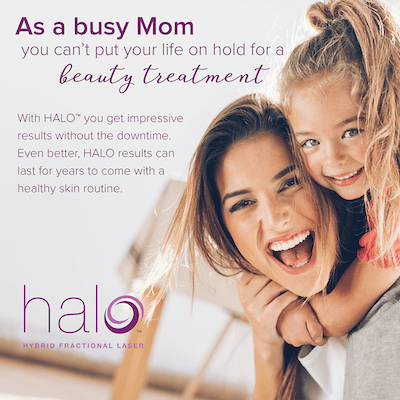 treatments. (Although you might find yourself not needing makeup at all.)
Unlike traditional laser treatments, initial results from HALO are visible immediately after the treatment, however, the skin will continue to improve over time. With HALO, fewer treatments are needed to provide even more impressive results than with traditional laser treatments. With HALO, optimal results are often achieved with only 1-2 treatments.
HALO provides a highly customizable skin treatment to precisely target areas of damage. It improves the look of fine lines and wrinkles, reduces pore size and offers flexibility in treatment levels and downtime. In fact, the procedure has a "glow-effect" producing a radiance that has been dubbed "angel-skin." The HALO has also been celebrated for its ability to offer improvements to all skin types, unlike traditional treatments.
The HALO treatment isn't just for faces. Many patients have enjoyed its benefits on their neck, chest, arms, and legs as well. While a typical appointment lasts roughly an hour for a facial treatment, it may be longer depending on the areas you're treating. The LUX Med Spa team will discuss this with you during your consultation so you can plan accordingly.
During a typical appointment, a topical anesthetic is applied to ensure your comfort. The treatment area(s) is then measured and treated. To provide optimal comfort, the HALO also has a "zimmer" for cooling!
Adverse side effects are extremely low and can include experiencing slight discomfort during the procedure or a darkening of the skin as the epidermis begins to slough off before your more youthful-looking skin is revealed.
Overall, the HALO allows you to turn back time by tightening, toning and refining the surface of aging and damaged skin, revealing a supple and youthful complexion!
We're confident you're going to be pleased with the results. Call us today to schedule your free consultation and let us reveal to you a new more youthful version of yourself. Your only regret will be not calling sooner.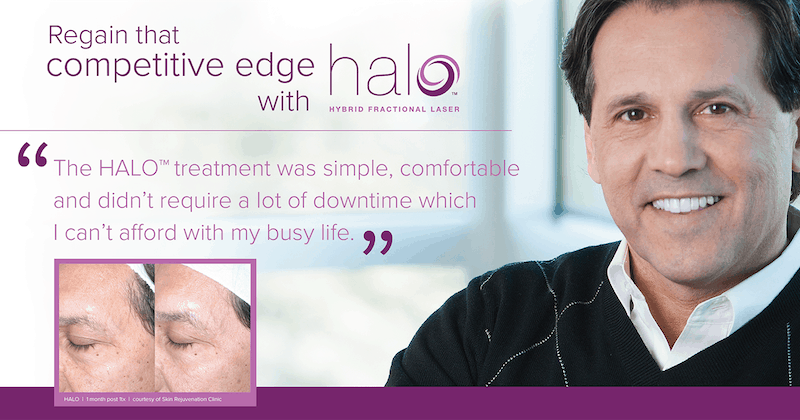 Why Choose LUX Med Spa for Your
HALO Rejuvenation Treatment
Anytime you are considering any type of cosmetic procedure safety is the primary concern. Dr. Larsen is a double board-certified plastic surgeon who has had a long and decorated career and maintains an excellent reputation among the top Plastic Surgeons in the world. His primary concerns are patient care and satisfaction, and he has received excellent reviews from both his patients and his peers.
Dr. Larsen has handpicked each member of his staff for LUX Med Spa to ensure that his patients receive the best care possible. Choosing the right practitioner is just as important as choosing the right procedure when you are searching for optimal results. Dr. Larsen and his team will present you with all the options and answer all of your questions during your free consultation. Call us today at 404.367.9005 and see what a difference LUX Med Spa could make for you!
The LUX Med Spa Membership Program is a great way to maintain a consistent skin care regimen at affordable prices.
LUXurious Skin Members can take advantage of exclusive savings every month on some of our medical spa's most popular treatments.
The LUX Med Spa Membership Program is a great way to maintain a consistent skin care regimen at affordable prices.
LUXurious Skin Members can take advantage of exclusive savings every month on some of our medical spa's most popular treatments.