Historically fat transfer procedures are what they sound like, removing fat from one area of the body and grafting it to another area. Until now, fat transfer treatments have been risky. They typically involve a time-consuming extraction process, with higher risk, more trauma, and unreliable results. Before developing high-fat vitality transfers offered through BeautiFill, fat cells were permanently damaged during the removal process. Because that process was so traumatic for the body to recover from, it yielded unpredictable results. Meaning doctors couldn't predict fat reabsorption rates, and it was common for patients to lose most of the fat transferred in the first year. With the unpredictable nature, many patients were left with the results of being overfilled, underfilled, or left with fat in areas where they didn't want it. 
Now the BeautiFill system has revolutionized the industry. Thanks to this groundbreaking technology, the removed fat is more uniform, undamaged, and has a much higher survival rate. Meaning that the days of overfilling and unpredictable results are a thing of the past. Additionally, the BeautiFill system introduced a new process that simultaneously uses a laser to break down fat while gently suctioning it out to process it rapidly. This system is streamlined to efficiently use thermal energy to tighten the skin where the fat cells have been removed so that there is no sagging once the fat is removed.  
How does Beautifill work?
BeautiFill is a new development in laser technology. The process gently heats the tissue surrounding fat cells at the donor site. (This varies from patient to patient, common areas include the abdomen, thighs, buttocks, or love handles.) This heating allows more fat to be removed from the tissue. This process also removes any oil, blood, or fibrous tissue from the harvested fat. While the idea might be gruesome to think about, it's an important technical step that significantly improves the survival of the transferred fat tissue. The results from this process are small uniform fat cells with a higher rate of viability, which has been unachievable until now.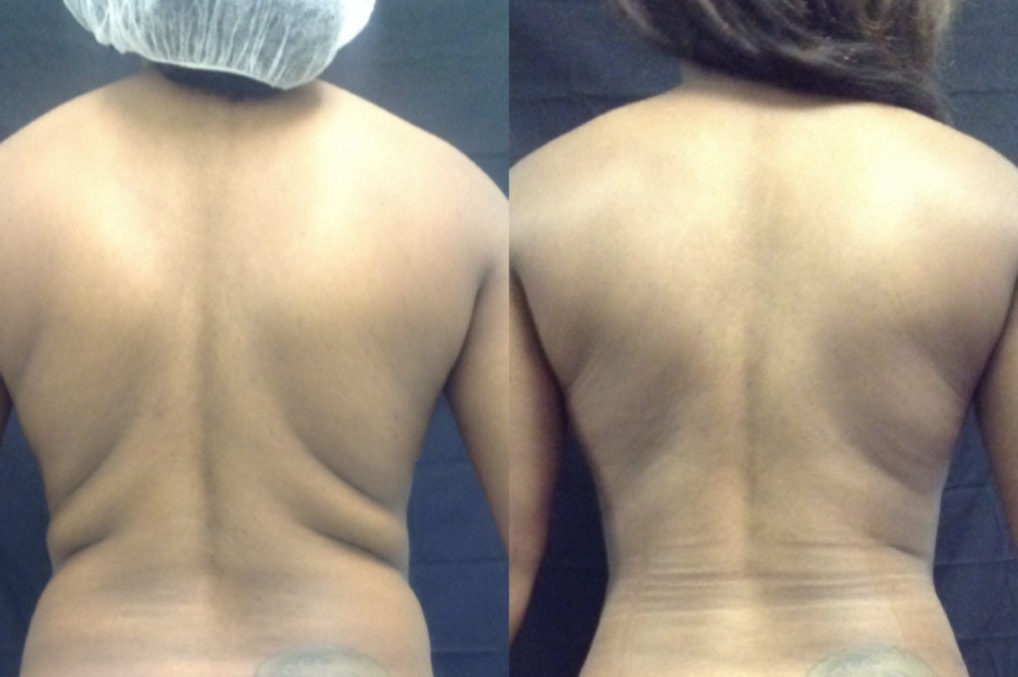 BeautiFill Before and After Results
What areas can you get fat transferred to?
The beauty of BeautiFill is that it can be used on basically any area of the body or face. For facial treatments, your cells can be injected at the temples, chin, beneath the eyes, used for cheek enhancement, or to fill in laugh lines or other facial areas as needed. For body treatments, more extensive areas, including the buttocks, can be given a rounded lift. Additionally, breasts can be enhanced, although the results will be more subtle than a full augmentation. Surprisingly, one of the most common areas patients wants to be treated is the hands, as they are one of the first areas of the body to show age apart from the face. With BeautiFill, they can be restored to a more youthful appearance. Here is a closer look at how long fat transfers work in commonly treated areas:

Breast
Just like any fat transfer procedure, some of the fat that is extracted will not survive. This typically happens within the first few days and will be absorbed by the body in the first few weeks. However, it's much easier to predict how much fat will survive thanks to developing technologies, making results more predictable. In general, patients can expect about 70 – 80 percent of the transferred fat cells to survive, though this can vary. It is essential to follow your surgeon's guidelines carefully to ensure the best chance for fat cell survival. This includes sleeping on your back for at least six weeks and avoiding direct pressure to the breasts, which could cause the fat cells to die.
Once the transferred fat cells have established themselves with new blood vessels, they should be considered viable indefinitely, making the final results of your procedure permanent once the healing process is complete. However, it should be noted that the size of fat cells can change over time, particularly with a significant weight fluctuation. This is why patients are typically advised to avoid a fat transfer to the breasts until they have reached a healthy, stable weight. In addition, significant weight gains or losses such as pregnancy can compromise the long-term results. 
Buttocks
Buttock augmentation with fat grafting requires several weeks of recovery, but the amount of fat that survives is primarily related to your post-surgical care. Meaning, your actions during the first three weeks will directly impact your butt lift results. Make sure you follow all of our plastic surgeon's instructions while you heal and avoid long sessions of sitting, squatting, or stretching. In addition, you'll want to stay away from any strenuous activities to prevent putting pressure on the area.
With new technology like BeautiFill, most of the fat will survive the transfer. Then during the initial three or four days following your Brazilian Butt Lift, your body will supply blood to the grafted fat, providing nutrients to ensure maximum fat survival. Most of the transferred fat will merge with the surrounding tissues, but your body will naturally absorb some of the fat up to six weeks after your procedure. The absorption is natural and unavoidable. The fat that survives is permanent, just like the existing fatty tissues in your buttocks. Maintaining your look will be dependent on living a healthy lifestyle.
Hips
People often wonder about the length of time they can enjoy the results of a fat transfer to the hips. It's important to understand that all living tissue needs a blood supply that carries oxygen to survive. Although with new technology like BeautiFill, there is a higher survival rate of fat during the transfer process, final results are dependent on the environment they are transferred to. As new circulation forms, and those fat cells will continue to survive in their new environment. It's important to note that there is always some resorption of fat after a transfer. With BeautiFill, that percentage is lower than with traditional methods. However, it's still recommended that patients rest and avoid pressure to this area 4-6 weeks after the fat transfer. Once the transfer and healing period is complete, many people enjoy the results of a fat transfer surgery to the hips for many years, provided they maintain a healthy lifestyle. 

Face
As mentioned above, facial fat transfers are permanent, so the results in the face will be noticeable for several years. However, a fat transfer surgery does not protect you from future aging, and as we age, we often lose fat in the face. So while a fat transfer can minimize your current signs of aging, patients should expect to see results diminish slightly over time. 
Why should I work with Buckhead Plastic Surgery for my fat transfer procedure?
We know this is a lot of information, but we hoped it helped better educate you on the long-term benefits of fat transfer surgery in Atlanta. Deciding to undergo a cosmetic procedure is a big decision. We hope this gave you some confidence to understand this procedure better.
Choosing a plastic surgeon can be intimidating. Dr. Larsen is a double board-certified plastic surgeon with years of experience and many 5 star reviews for fat transfer procedures. If you have more questions or would like to discuss this procedure as an option, give us a call. We would love the opportunity to talk with you more about fat transfer surgery and non-surgical options. To learn more, schedule a free 15-minute consultation.
The LUX Med Spa Membership Program is a great way to maintain a consistent skin care regimen at affordable prices.
LUXurious Skin Members can take advantage of exclusive savings every month on some of our medical spa's most popular treatments.
The LUX Med Spa Membership Program is a great way to maintain a consistent skin care regimen at affordable prices.
LUXurious Skin Members can take advantage of exclusive savings every month on some of our medical spa's most popular treatments.