Full, Fabulous Eyebrows
Microblading
Microblading is a cosmetic procedure that is growing in popularity. Also at times called Eyebrow Embroidery or 3D brows. Microblading is an eyebrow enhancement procedure under the category of permanent makeup. Unlike traditional cosmetic tattooing, the procedure is less invasive and considered semi-permanent. Since microblading pigments are not deposited as deeply into the skin as traditional tattooing, the pigment will fade naturally over time. A typical microblading service can last 12-36 months depending on your skin type and how you care for your skin.
Your personal skincare routine will also affect the longevity of your service. Things like tanning, using skincare products that contain AHA, or Glycolic Acid will cause your pigment to fade faster. As these products cause your skin to naturally resurface faster. Your personal color retention will vary slightly based on your body chemistry. To maintain pristine-looking brows a touch-up session is recommended every 12-18 months.
How does the microblading procedure work?
The procedure is completed over two visits. During the first visit, your eyebrows will be shaped by a specialist. The procedure is performed by using a small tool with an ultra-fine needle. This tool is used to etch individual hairs onto your skin with your specifically chosen pigment. The pigment is chosen based on what would look the most natural with your personal complexion and your desired results. The result is an incredibly natural and realistic look. Most patients love their new look so much they never want to go back to their natural brows!
Microblading can correct or dramatically improve the look of lost or thinning eyebrows. It is ideal for those wanting to enhance the look of their natural brows or those who have little to no eyebrows. Thinning eyebrows are often a side effect of aging, over tweezing, threading, or waxing. But with Microblading you can fully restore the look of natural youthful brows or correct unflattering growth patterns. The only regret you're going to have is not booking this service sooner.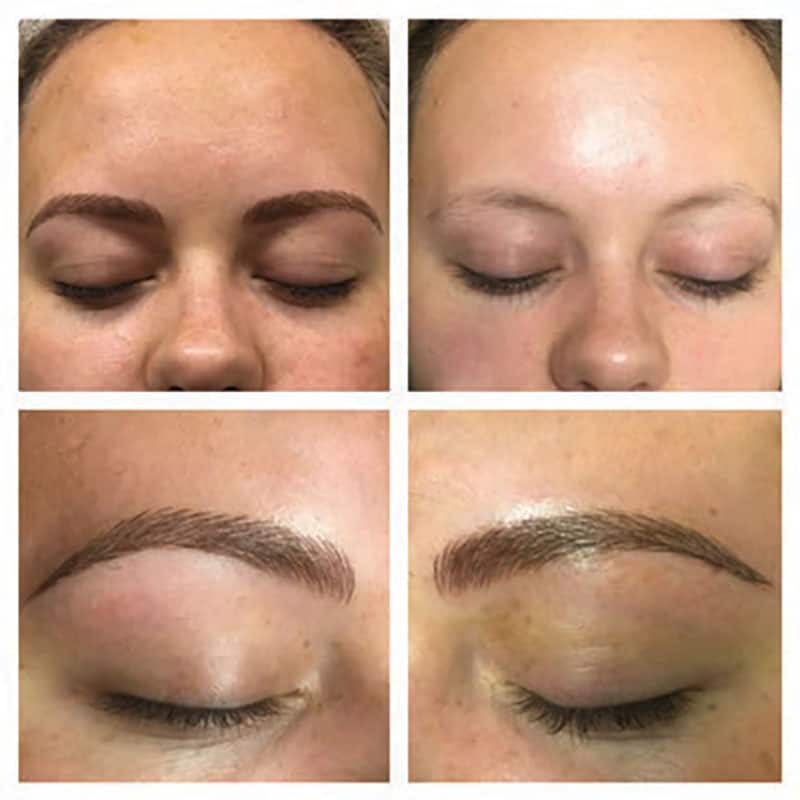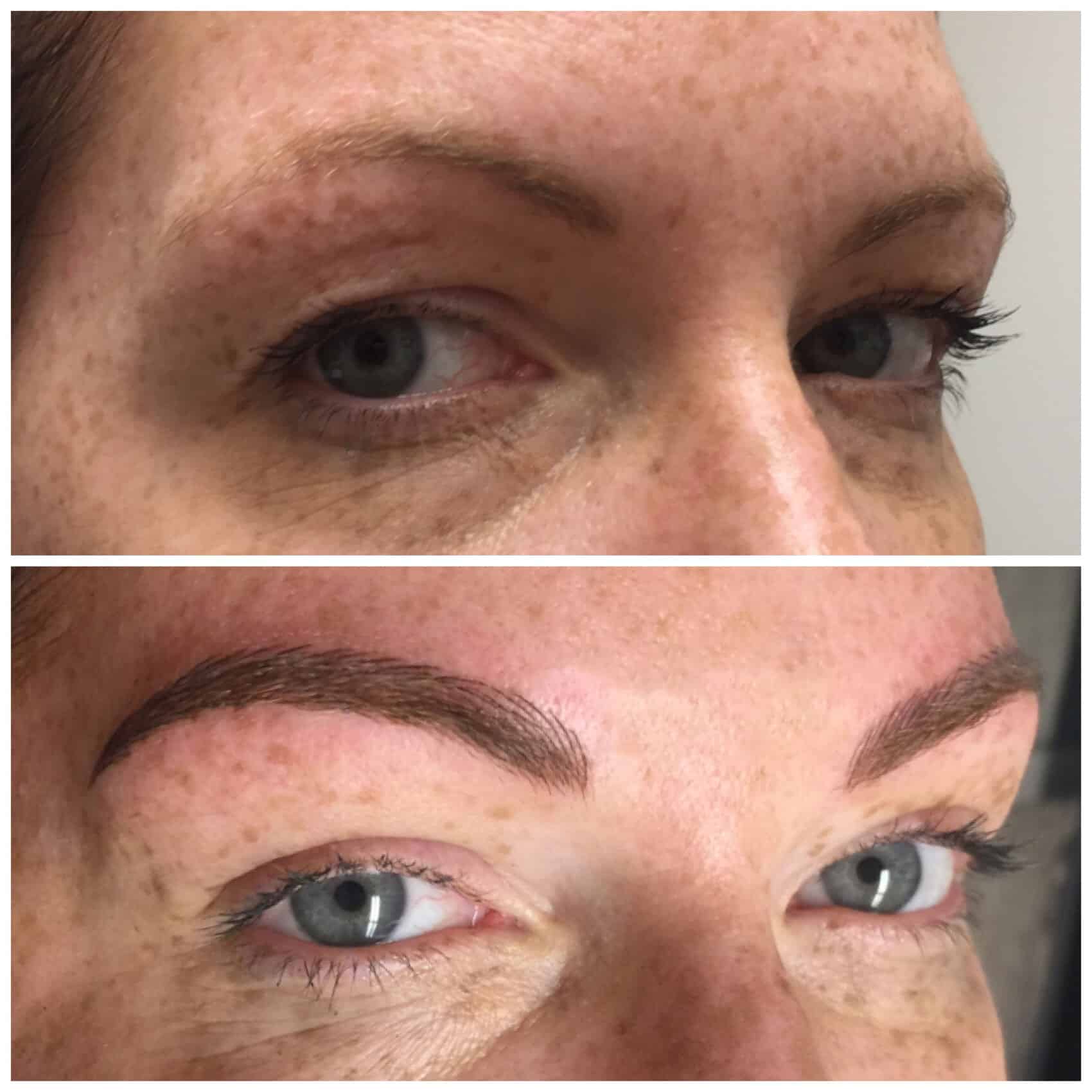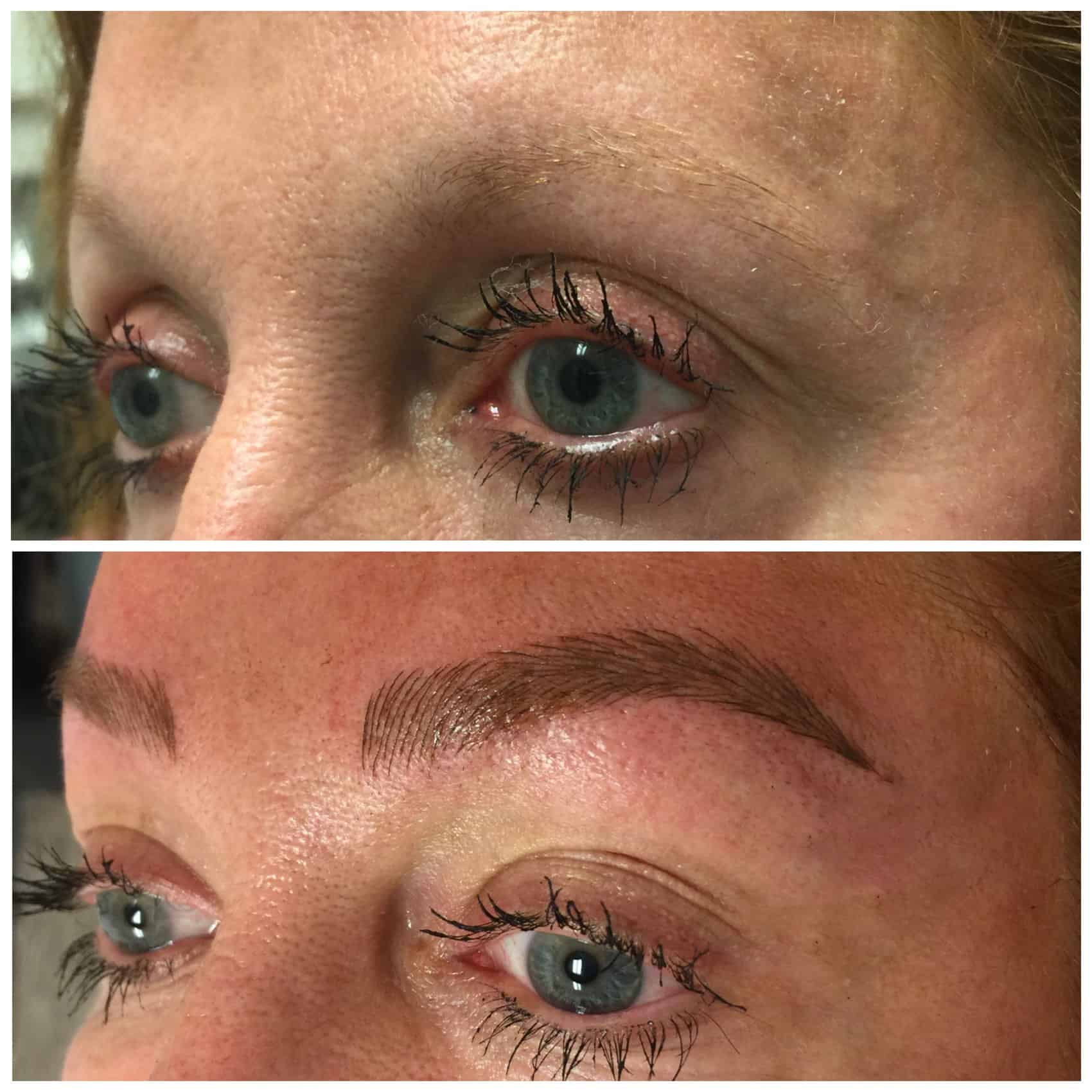 How long does it take?
As we mentioned the process is completed over 2 visits. For the first session, you should plan on spending 2-3 hours in our office. During your session, our brow technician will shape and style your brows to meet your aesthetic goals and your personal preferences. Then she will follow up with the actual pigment etching procedure.
4-6 weeks after the initial procedure a follow-up session is necessary for minor touch-ups. The second session takes 1-2 hours to complete. Following the second session, your new brows will be maintenance free for the next 12-36 months.
Does it hurt? How long is the recovery? Any Side effects?
When considering any cosmetic procedure, does it hurt is often the first question. The pain level for microblading is considered mild to none. Prior to the procedure, your brow technician will apply a topical anesthetic to numb the area to be worked on. Depending on your level of sensitivity it can be reapplied during the procedure. Most patients describe the sensation as a
mild scratching, some report feeling nothing at all. After the procedure, there can be some slight swelling and a feeling of tightness is often reported. The feeling is similar to what a light sunburn would feel like. Usually, Tylenol is enough to manage any discomfort you might feel.
As for the recovery, this procedure has no downtime. Most of our clients feel like they could return to work immediately following this procedure. The eyebrow area will be slightly red and the pigment will appear very dark. This is a normal part of the healing process. As your skin heals the pigment will fade up to 40% as it heals.
In the days following your procedure, your brows will continue to appear dark and you will likely experience some light scabbing. This is a normal part of the healing process, and it's important to let your skin's natural healing process takes place. As you heal you'll notice the eyebrow color lighten.
Within 7-14 days your brows will be completely healed over and within one month the color will fully set in. It's normal for your brow pigment to look significantly lighter as the skin heals. This is just a result of your skin healing in stages and is normal. The lighter appearance is caused because the skin under the surface is still undergoing a healing process, even when the top layer of skin is healed. Be patient during the healing process, and remember that the second session is where the details are perfected.
Is the touch up necessary?
A touch-up session will be scheduled during your first visit. It is a necessary part of the procedure and cannot be done properly earlier than 4 weeks after your initial session. It's common for certain areas to not absorb the pigment during your first session, these will be refilled during the follow-up session. The important thing to remember is, this touch-up session is where we perfect your brows and ensure the quality of your service so that you can enjoy maintenance-free brows for the next year.
Why Choose Lux Med Spa for Your Microblading
Meet Hoa Larsen
Hoa is a certified Microblading Artist.  She received world-class training by one of the top phibrows masters at Phibrows Academy, one of the most prestigious microblading academies.  
Microblading is an extremely precise art and should only be performed by trained artists with an aesthetic eye. Hoa uses top of the line, highest quality pigments, and tools to achieve perfect, natural-looking brows. She is extremely passionate about her craft and welcomes you to visit her at Lux Med Spa to get the brows you have always wanted.
Our highly rated and excellently trained staff has been helping people look their best for years. Lux Med Spa at Buckhead Plastic Surgery has been serving the Atlanta area for more than 20 years under the leadership of Dr. Larsen. We want all our patients to feel at home at our spa, have an incredible experience and love what they see in the mirror. Call us today at 404.367.9005 or use our online form to schedule your consult for Microblading.

The before-and-after photos of Dr. Larsen's actual patients showcase the kind of results he consistently achieves.
See Dr. Larsen Live from the OR performing transforming surgeries as well as cutting edge treatment videos from LUX Med Spa.
Alan N. Larsen, MD.
Double Board-Certified Atlanta Plastic Surgeon
Dr. Larsen established Buckhead Plastic Surgery as a boutique practice to offer world-class, personalized service to women and men throughout the Southeast. Dr. Larsen's compassion and talent are complemented by his elite training with some of the nation's finest plastic surgeons.


Alan N. Larsen, MD.Double Board-Certified Atlanta Plastic SurgeonDr. Larsen established Buckhead Plastic Surgery as a boutique practice to offer world-class, personalized service to women and men throughout the Southeast. Dr. Larsen's compassion and talent are complemented by his elite training with some of the nation's finest plastic surgeons.