Liposuction is a cosmetic surgery that removes excess fat deposits from the body. Liposuction is not a surgery performed for weight loss as much as it is a surgery for perfecting or correcting the contours of the body for a more visually pleasing silhouette.
Liposuction is the most popular cosmetic procedure in the United States. One of the reasons that it is so popular, is that it addresses a multitude of problems. For those who are in their ideal weight, or slightly over, liposuction can remove stubborn fatty areas that drive you crazy. For example, those who are frustrated with touching thighs, or love handles, or saddle bags, liposuction corrects all of this. If you want a trim, tight waistline, liposuction can achieve this for you. Secondarily, it is a great adjunct for Gynecomastia, a condition where fat enlarges the breast tissue of men. Or removing Lipomas, which are benign fatty tumors that can develop as we age. Liposuction is a wonderful tool for creating those smooth contours you have always desired.
Dr. Larsen & His Liposuction Technique
Dr. Larsen is a double board-certified plastic surgeon who has been practicing for over 22 years. He has been performing liposuction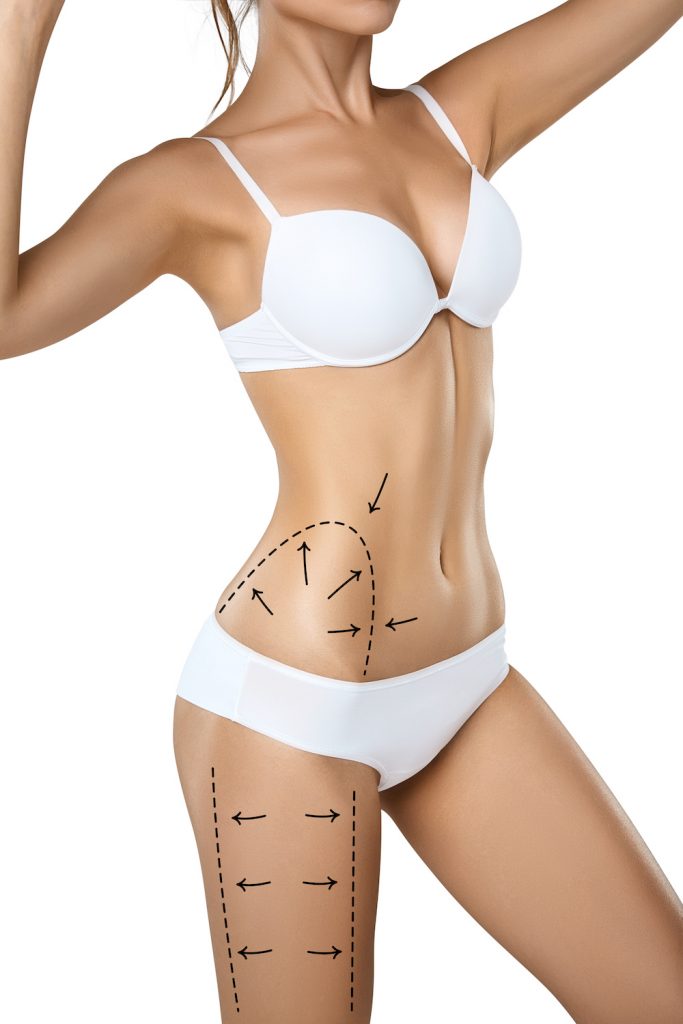 successfully for many years. During liposuction, he uses an instrument called a cannula, which is a small, hollow, cylindrical surgical tool that allows fat to be suctioned through it without harming the surrounding tissues.
He makes small incisions in well-hidden areas and inserts the cannula just under the surface of the skin into the fatty tissue below. The cannulas he uses are small ranging in size from 2-6mm. The smaller the cannula, the more detailed the results can be and these are usually used for Liposculpture of the face and neck for instance. The desired amount of fat is then removed and the contours of your tissue are reshaped and the incisions are closed. Dr. Larsen is an extremely skilled surgeon and is known for creating natural-looking results. You will be pleased with the results of this surgery.
Are You a Good Candidate for Liposuction?
If you are considering Liposuction, it's important to realize that this is a procedure for contouring and not weight loss. It's common for people to think that liposuction can be a quick fix for weight loss, but the truth is there is not a replacement for a healthy lifestyle. A healthy diet and exercise are the best way to lose weight, and liposuction is meant to contour problem areas of the body.
Good candidates for a Liposuction procedure have the following:
Maintained a healthy weight for at least a year.

They are within 30% of their ideal BMI and have firm skin with good elasticity as well as a healthy muscle tone.

A non-smoker.

Have a positive outlook and realistic expectations of what is possible.
Remember, liposuction is not a quick fix. The typical recovery to being pain-free is a few days to a week or two. Swelling and your final contours will actually take several months. But you should be extremely happy with the results within 4-6 weeks. You should notice a significant result as soon as your first post-op visit.
Many patients are curious about the process of liposuction. Every procedure at Buckhead Plastic Surgery begins with a consultation. Call us today to book a consultation and Dr. Larsen and his talented staff will welcome you into our office. We will sit with you and listen to your concerns and answer all your questions. We will present you with all the possible treatment options for your optimal results.
The Process
The next step in the process is scheduling your procedure, and having the actual surgery. Liposuction procedures are done at the Chastain Surgery Center, dedicated solely to cosmetic plastic surgery, and is Atlanta's Premier AAAASF accredited ambulatory surgery center. This brand new facility is not only beautiful but it was designed to provide our patients with the utmost in comfort and luxury.
The liposuction procedure itself is simple. You are sedated using intravenous sedation or general anesthesia. Small incisions are made in well-hidden areas. Then the remaining tissue will be adjusted to form a more pleasing contour. Lastly, the incisions are closed and you'll be sent to recovery.
Recovery
Recovery from liposuction takes time. You should expect to wake up from surgery with compression garments in place. For the first few days to a week after your surgery, you will be expected to rest and let your body recover. At this point the tissues are swollen and if not fully healed. Therefore, rest allows the tissues to start healing and the swelling to resolve. After three weeks, as long as healing is progressing normally you can return to full activity including strenuous exercise at the gym. Although you can work out fully in the gym after three weeks, you will still need to wear your garment for 6-8 weeks following surgery. These garments are specifically designed to help with healing. They reduce swelling, pain and discomfort, and ultimately help create your final fantastic curves.
Liposuction is often paired with other procedures at Buckhead Plastic Surgery. Such as a tummy tuck (which can get rid of excess skin on the stomach) or Bodytite. Bodytite is a minimally-invasive, surgical treatment that also helps with body contouring. This procedure added to liposuction helps tighten the underlying tissue and tighten the skin without adding to the recovery or downtime that comes with liposuction surgery. It is common for patients to schedule these procedures together for maximum results with minimal downtime. Call us today to see which procedures would be most effective for you.
When considering something as important as plastic surgery, the decision of who will perform the procedure is paramount. Dr. Larsen is a double board-certified plastic surgeon who has led a long and decorated career. Not only has he trained with the best surgeons in the country but he has assembled an incredible team who are known for their incredible patient care and attention to detail. He has performed liposuction on over 24,000 areas of the body for over 5,000+ patients throughout his career.
The entire team at Buckhead Plastic Surgery is focused on your comfort and satisfaction. Call us today to schedule your consultation and find out what procedures would be best for you. You might be surprised how many options are available that are specific to your needs and what an improvement to your confidence a simple procedure can provide. Call us 404.367.9005 at today to find out more!