It's back to school time, and that leaves many of us thinking about updating our wardrobe to add a few fall pieces. But have you considered updating your beauty regime to change with the seasons? LUX has a lot to offer this season to keep you looking your best! We work hard to stay on the cutting-edge of technology and all the current trends to make sure we can always offer you the very best!
Lately, there has been quite a bit of buzz about upgrades to basic fillers. Don't get us wrong, there isn't anything wrong with fillers, but now there are even more options than ever before! So keep reading to learn about our new service options and what might be best for you!
Why choose Dermal Fillers?
We've all heard of Botox. But what about Dermal fillers? Fillers and other injectables are a common starting place when people want to make changes to their skin. They can delay or even reverse the signs of aging. They are virtually painless, and they last anywhere from 6 months to 2 years. (Talk about getting your money's worth!) 
If you want to fill in fine lines and wrinkles or have noticed a lack of volume or fullness to your face. Fillers might be an excellent option for you. Lux has a wide variety of injectables, so call us today to determine which one is best for you. 
Chin Aug with JUVÉDERM® VOLUMA™ XC Filler at LUX Med Spa
Oh, and don't forget to ask about KYBELLA. It's the only FDA-approved injectable that can dissolve fat under your chin. Injectables are safe and reliable and can create drastic changes in your appearance while still looking natural. If you're curious, call us today to schedule your free consultation. 
Why choose Skin Resurfacing?
Microneedling is a skin resurfacing treatment that is not a new idea. But Opus Plasma has been flipping traditional therapy on its head and wowing patience since its arrival on the scene. Brought to us by the prestigious Alma Lasers company Opus Plasma is revolutionizing skin resurfacing. The results are like a combination of an aggressive ablative CO2 laser and a gentle chemical peel; this cutting-edge technology combines radiofrequency with microplasma energy. Meaning it can treat a variety of skin concerns with minimal downtime. Opus Plasma can give you better results than typical microneedling services of the past could provide.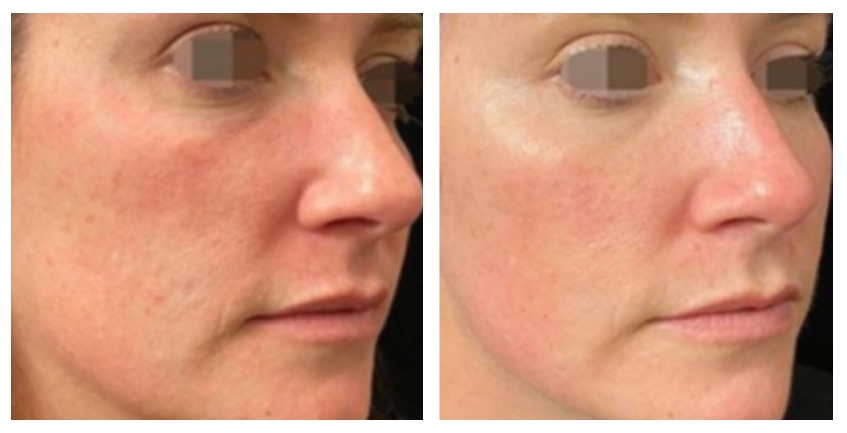 Opus Plasma Before & After Results
If you have conditions like wrinkles, age spots, loose or lax skin, rough or uneven skin tone, Opus Plasma is for you. Best of all, Opus Plasma can be used on all shades of skin. So call us today to set up your consultation if you think your skin could benefit from a complete resurfacing treatment that can take years off your face, neck, or hands!
Why choose BeautiFill?
BeautiFill is what patients everywhere have always wanted fat transfer services to be. However, in traditional fat transfer services, the fat removal was uncomfortable, left loose skin, and required a lengthy surgical recovery. Not only that, but the fat that was transferred had a low survival rate which meant that it was hard for surgeons to estimate how much of the fat would survive, which lead to painful overfilling and unpredictable results. 
Until now, with BeautiFill, the fat transfer service has become more comfortable, more gentle, and more predictable. Starting with the fat removal process, instead of leaving behind loose skin where fat was removed, BeautiFill tightens the skin as it removes the fat. The removed fat is treated to destroy fibrous tissue, leaving behind symmetrical living fat cells with a predictable high survival rate. Meaning now surgeons can predict final results with extreme accuracy. This process not only makes a recovery more comfortable but also makes results more predictable. You can treat minor or significant areas with this treatment. (In fact, many patients are choosing this option as an alternative to the Brazilian Butt Lift).

BeautiFill Before & After Results
Patients love it because they can use their body tissue, not an implant, and slim a problem area while enhancing another. If you think BeautiFill is right for you or have questions about the process, call us today to book your free consultation. Our talented medical staff can answer any questions you might have and provide you with an optimal treatment plan. 

Why choose LUX for my beauty treatments?
LUX Med Spa has a fantastic reputation for excellence in service and patient comfort. Dr. Larsen is a double board-certified plastic surgeon, and he has hand-picked a team of individuals to run LUX Med Spa. Likewise, he has chosen his technicians for their reputation for excellence to maintain the high level of patient care and optimal results you would expect from our offices. 
You will be receiving treatments in our boutique, personalized spa. Where our state-of-the-art, nonsurgical cosmetic treatments are provided by a team of medical and aesthetic specialists. Our entire spa experience is designed with your comfort and optimal results in mind. So call us today at 404.367.9005 to book your free consultation and see what a difference a visit to LUX Med Spa could make for you.
The LUX Med Spa Membership Program is a great way to maintain a consistent skin care regimen at affordable prices.
LUXurious Skin Members can take advantage of exclusive savings every month on some of our medical spa's most popular treatments.
The LUX Med Spa Membership Program is a great way to maintain a consistent skin care regimen at affordable prices.
LUXurious Skin Members can take advantage of exclusive savings every month on some of our medical spa's most popular treatments.