If erasing fine lines and wrinkles sit at the top of your beauty to-do list, then you probably want to consider injectables and fillers. While the topic may be a touchy one to broach in your 40s, there are many reasons why you may want to consider these treatments now rather than later, primarily because addressing these signs of aging early on makes them easier to correct. 
The aging process is inevitable, and as we age, changes to our skin and face occur. For example, it's typical to start to see a change in skin elasticity and volume loss and fine lines and wrinkles. But with so many options available to correct these common signs of aging, how do you know which is best for you? 
Those are some of the exact questions that Candace, a Lux Med Spa patient, had. 
At 47 years old, Candace decided it was time to refresh some of the facial areas that needed a little tweaking, like her thinning lips, crow's-feet, and the moderate lines around her mouth.
The mother of two has spent the last seven years focusing on her family and business, which left little time to take care of herself and her aging skin, which she says has caught up with her.
40-SOMETHING AND READY FOR A REFRESH
Ready to do something for herself, Candace visited Lux Med Spa for her very first experience with age-reversing fillers and Botox.
She was somewhat nervous and unsure of what to expect during her initial treatment but knew she was in good hands. 
During her consultation with Sonya, a registered nurse at Lux Med Spa, Candace expresses her concerns about her nasolabial folds, crow's feet, and smaller-than-before lips. However, she wanted to be able to see expressions when moving her brows and forehead. She didn't want to look overdone or unnatural, just like a better version of herself. 
Candace's natural bone structure makes her an ideal candidate for injectables and filler, and it doesn't require adding that much definition. Treating just a few small areas will enhance her beauty yet retain her natural features, so she looks natural yet still like herself.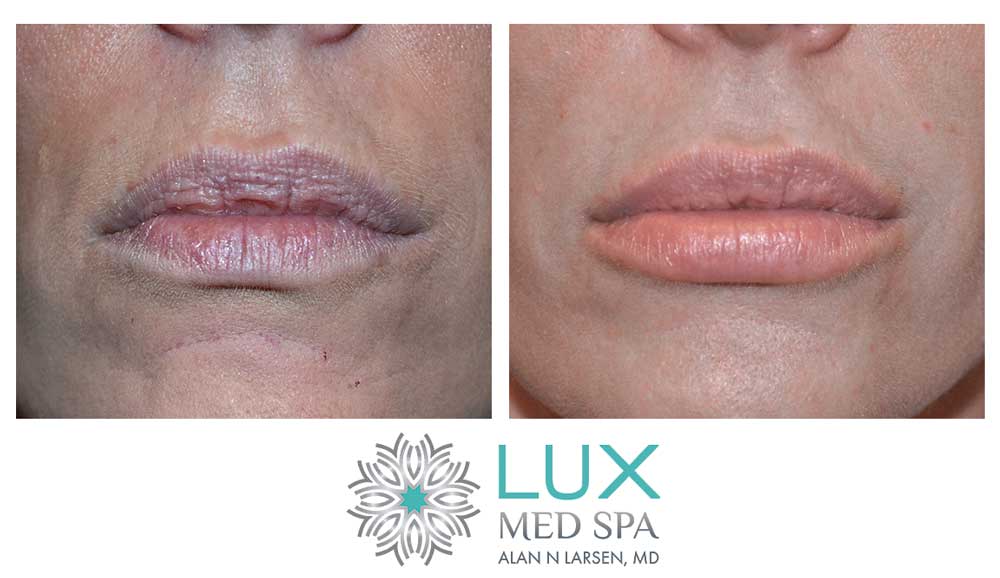 TAKING OFF THE YEARS
First, Candace had BOTOX injections in her forehead to smooth and soften the lines.
Next, she is injected with Juvederm Voluma XC in the cheeks. Adding a little more volume to the cheeks will improve the mid-face and minimally lift the lower parts of the face.
Her injector, Sonya, begins with a tacking-like technique at the back part of the cheek to accentuate them and bring them up just a bit. This technique also marginally improves the nasolabial folds, and putting the right products in the right places makes all the difference.
Immediately after filler, it is normal to feel a slight unevenness or bumpiness, but the product will likely smooth itself out over the coming weeks. Swelling is also common.
After the cheek injections, the crow's feet were still noticeable but not as prominent as before starting the treatment. So next, Sonya injected a few units of Botox to soften the lines around Candace's eyes. 
To correct Candace's minimal nasolabial folds, Juvederm Vollure XC was injected to fill them in and make them less pronounced. The hyaluronic acid filler works exceptionally well to fill the grooves on the face and smooth them over. A tiny bit of the filler, which is hydrophilic (it pulls water to the area to plump), is also used at the corners of her mouth to lift them ever so slightly. While it's not standard procedure to fully erase the nasolabial folds so they appear flat, it's also not normal not to have any lines in the area, which can make a face look artificial–it's more about softening them. 
In her lips, Juvederm Ultra XC, a popular lip filler, was used to help soften the minimal lip lines on her lips. Since Candace's lips already have a good definition, reinstating the vermillion border was not the main objective, but plumping them up and smoothing and giving the lip a bit of a curl (from a profile view)is. Plus, adding volume to the lips allows for the upper lip not to appear to thin out when smiling. Post-treatment swelling is normal when treating the lips. 
To minimize bruising and swelling after fillers, it's best not to 'squish' the lips and always sleep with the head elevated for a few nights since the fillers' placement is moldable for the first 24 to 48 hours. 
Candace's treatment is a mild version of the liquid lift, perfect for patients who are not ready for surgery yet need to replace lost volume and address prejowling. Candace was excited about her new look, but she even said she looked like she used to and 40, not 47. If that isn't the sign of a happy patient, we don't know what is!

Why choose LUX for my beauty treatments?
LUX Med Spa has a fantastic reputation for excellence in service and patient comfort. Dr. Larsen is a double board-certified plastic surgeon, and he has hand-picked a team of individuals for LUX Med Spa. LUX Med Spa is known for their reputation to maintain the high level of patient care and optimal results. 
Call us today at 404.367.9005 to book your complimentary consultation and see what a difference a visit to LUX Med Spa can make for you!
The LUX Med Spa Membership Program is a great way to maintain a consistent skin care regimen at affordable prices.
LUXurious Skin Members can take advantage of exclusive savings every month on some of our medical spa's most popular treatments.
The LUX Med Spa Membership Program is a great way to maintain a consistent skin care regimen at affordable prices.
LUXurious Skin Members can take advantage of exclusive savings every month on some of our medical spa's most popular treatments.