We all deal with sweat from time to time, especially in the summer, but if excessive sweating is causing you distress, miraDry might be the solution you need! If you have found that regular antiperspirants aren't cutting it, or you find yourself changing your clothes several times a day, miraDry might be right for you. Imagine what your life would be like if you could eliminate underarm sweat forever? Contact LUX today, and we can make that dream a reality!
What Causes Excessive Sweating?
Sweating is a normal function of the human body to regulate body temperature and optimal wellness. Excessive sweating can be a clue that something is wrong inside your body, such as a fever or heart attack. However, there are various causes of excessive sweating, from anxiety to diabetes and hormonal issues like menopause. If excessive sweating disrupts your life, we recommend you speak to your doctor immediately to see if miraDry could be a solution for you!
When Should You Speak To Your Doctor About Excessive Sweating?
If you've been sweating excessively and you suspect you might have hyperhidrosis, we recommend you make an appointment with your doctor for a diagnosis. If you are experiencing excessive sweating along with chest pain, difficulty breathing, heart palpitations, or nausea, we recommend you call 911 immediately because you might be experiencing a significant health crisis. However, you might have hyperhidrosis if you're noticing an increase in sweating even when at rest, unexplained night sweats, or excessive sweating is causing emotional distress or interrupting your daily activities. This condition can be diagnosed by a doctor and could make you an excellent candidate for miraDry.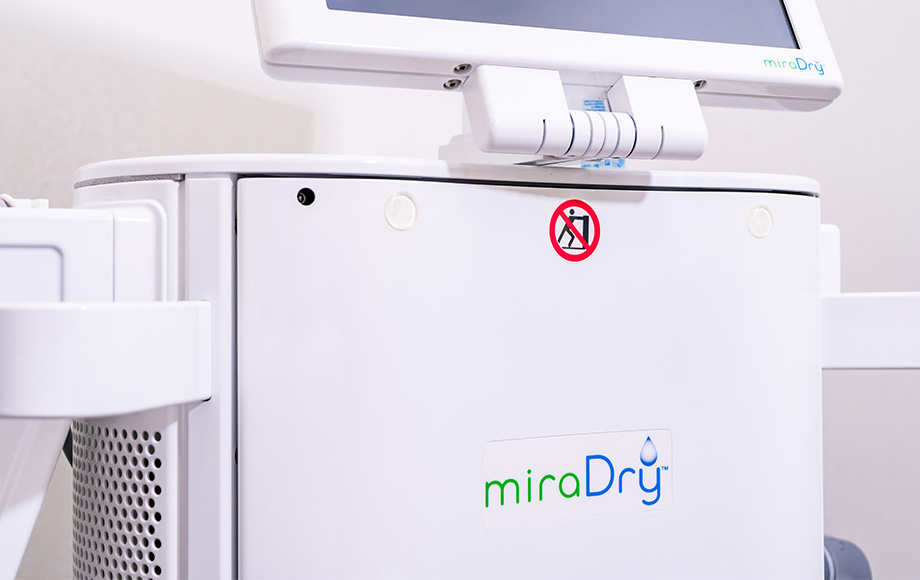 What Is MiraDry?
MiraDry is a procedure to treat hyperhidrosis or excessive underarm sweating. This two-hour treatment is non-invasive and delivers precisely controlled energy to the region where the underarm sweat glands reside. The result is that sweat glands are eliminated, meaning the results are permanent, and you can expect a reduction in sweat immediately after treatment. In addition, this procedure requires minimal downtime; although we recommend waiting at least a day before an intense workout, you can return to your routine quickly after the procedure.
Isn't Sweating Important?
Of course, it is! Sweating is an essential function of the human body to regulate your body temperature and maintain good health. However, you don't need to sweat from your armpits to achieve those goals. The human body is equipped with roughly 2-4 million sweat glands, and the sweat glands in the underarm area account for about 2% of that total. Therefore, reducing this small percentage of sweat glands will not adversely affect your health. 
How Many Treatments Will I Need?
Each person is different and so are their sweat glands. Therefore, depending on your body and your optimal results, your treatment plan might require more than one session. Typically patients are advised to book two sessions three months apart. After the first session, most patients report up to 82% reduction in underarm sweat. 
How Long Do The Results Last?
One of the reasons miraDry is so popular is because results are immediate and they are permanent. 
What Are The Most Common Treatment Areas For MiraDry?
MiraDry is the leading non-surgical treatment for axillary hyperhidrosis. It is FDA-cleared to reduce underarm sweat odor and hair permanently. Most patients will experience an 82% reduction in underarm sweat after treatment. Comparatively topical underarm treatments such as antiperspirants only provide 20-30% in temporary sweat reduction. At this time, miraDry is only FDA-cleared for underarm treatment.. 
Why Should I Work with LUX Med Spa For My MiraDry Treatments?
LUX Med Spa offers state-of-the-art non-surgical cosmetic treatments provided by a team of medical and aesthetic specialists. All handpicked by Dr. Alan Larsen, a double board-certified plastic surgeon with over 20 years of cosmetic surgical practice. Our team includes a physician assistant and a registered nurse specializing in cosmetic injections,  licensed medical aestheticians/laser technicians, and nationally certified massage therapists. Our team is dedicated to creating a personalized spa experience where safety, patient comfort, and premium results are our top priorities. Call us today tat 404.367.9005, or use our online form to book your consultation.  The LUX Med Spa staff would love to welcome you and present you with all the treatment options available to provide optimal results.