As we age, our bodies change too. Over time skin loses its elasticity, so it begins to sag or look crepey. Despite dieting and exercise, keeping the muscle tone we once had and getting rid of stubborn areas of fatty tissue is challenging. Pregnancy and breastfeeding can change certain body areas forever, making it nearly impossible to return to the pre-pregnancy figure. 
When it comes to improving how your body looks and boosting your confidence, Buckhead Plastic Surgery offers two options—the Body Lift and the Mommy Makeover. The body lift is a surgical option to remove sagging skin and tighten, slim, and tone your overall shape. The popular Mommy Makeover is also a surgical option, but it is geared towards specific changes in the body resulting from pregnancy and breastfeeding.
Both options provide a one-and-done solution, meaning you only need one surgery to do it all instead of multiple surgeries over a few years. The impressive results of a Body Lift and a Mommy Makeover are also very similar because they rejuvenate your body, giving it a slimmer, more toned and youthful appearance.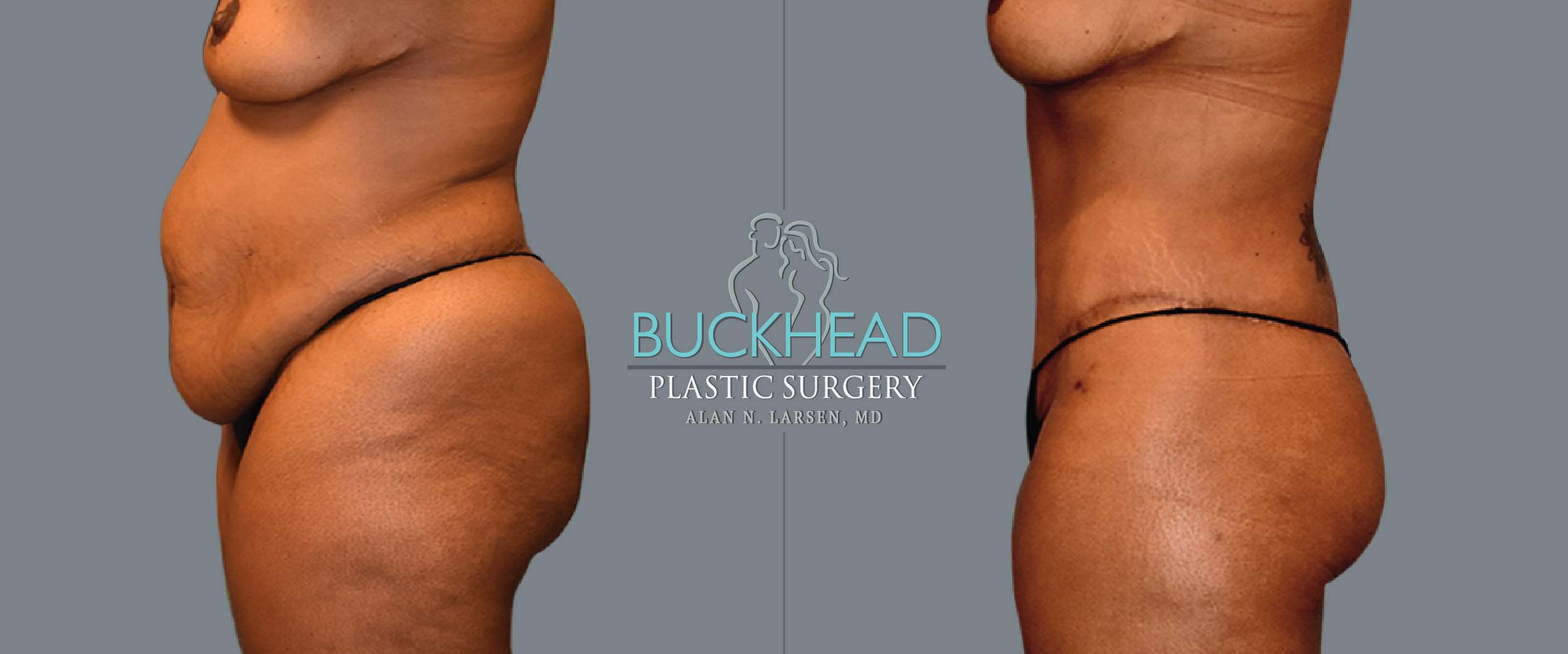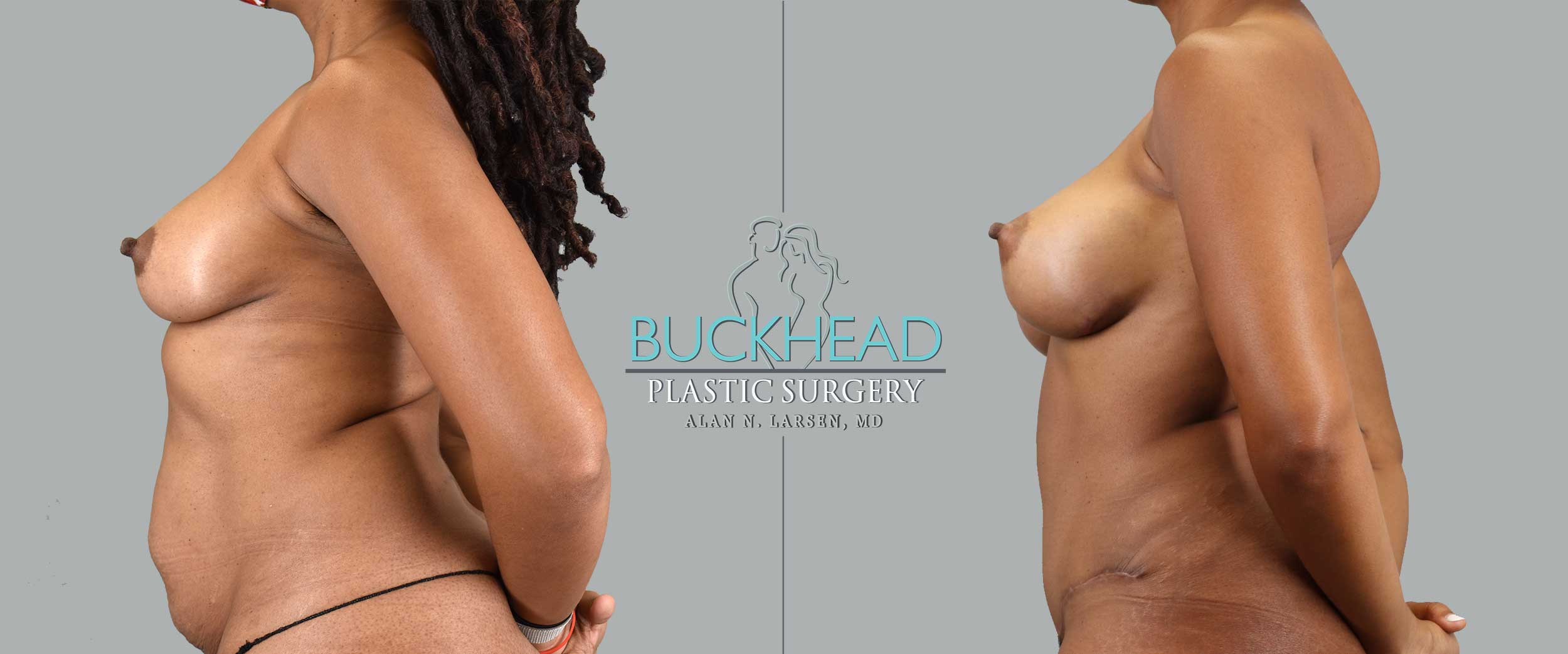 What is a Body Lift?
A Body Lift is a cosmetic surgery that aims to resculpt all body areas, including the abdomen, thighs, groin area, buttocks, tummy, hips and back. This procedure includes the removal of fat, the resculpting of tissue, and the removal of excess skin. Usually, these procedures are reserved for areas with poorer elasticity and may be performed along with liposuction for optimal results.
For the procedure, Dr. Alan Larsen makes a circumferential belt-like incision that runs across the top of the pubic area, up along each side, from hip-to-hip, and around the top of the buttocks. Using this one incision, he can remove subcutaneous fat and tissue in the abdomen, skin in the waist and buttock areas, resulting in a smoother, more youthful body contour. 
Since most Body Lift patients have separated abdominal muscles (rectus diastasis), Dr. Larsen can repair underlying muscles and excess fat may be removed using liposuction if the skin has enough elasticity to bounce back to a newly toned shape.
Jaclyn tells her story, about her results, recovery, and why she chose Dr. Alan N Larsen at Buckhead Plastic Surgery for her Body Lift Procedure.
Why do Patients Choose a Body Lift?
Some patients choose to do a body lift because they have lost significant weight, but they no longer have the skin elasticity they once had, so surgery is the only option to remove excess, sagging skin and show off their slimmer shape. For patients who have experienced stretching or even separated abdominal muscles after pregnancy, body lifts will correct those problem areas, and the tummy will be smoother, tighter and stronger as a result. The abdominal muscles will be surgically sewn back together, and depending on the skin's elasticity, liposuction may also be used to sculpt the tummy area. 
Patients who choose the body lift may also have skin that ages more rapidly due to genetics, which can be frustrating and lead to low self-esteem. These patients have spent lots of time, energy, and money trying to achieve their aesthetic goals, but they are still self-conscious about their appearance.

What is a Mommy Makeover?
The physical changes your entire body goes through from the first months of pregnancy to breastfeeding, are too many to count. After pregnancy, several body features like the breasts, abdomen, flanks and even changes in your face have likely been affected. Even after years of exercise and dieting, your post-baby body may still have stubborn areas between your hip bone and rib cage. A Mommy Makeover can work to address them, giving you back your pre-pregnancy figure. 
At Buckhead Plastic Surgery, a Mommy Makeover uses a combination of procedures to achieve your desired results: Breast Lift, Breast Augmentation, Tummy Tuck, Liposuction, and Cosmetic Injectables. We tailor Mommy Makeovers to each patient, so we will choose the procedures that best suit your goals.
Why do Patients Choose a Mommy Makeover?
Patients who choose a Mommy Makeover typically look for specific results in specific body parts. They want to reduce excess skin and fat in the midsection with tighter, more smooth skin. Patients want to eliminate sagging breasts, minimize stretch marks and remove stubborn pockets of fat in various areas like the flanks, thighs, or buttocks. Mommy Makeover patients may also choose fillers and Botox to restore a more youthful appearance by improving the look of fine lines. 
Unlike the Body Lift, the Mommy Makeover often includes a Breast Lift or Breast Augmentation with implants. A breast lift is ideal for certain patients because surgery lifts the breasts to a higher position by simply removing extra skin, giving a perkier aesthetic. For some patients, perkier breasts can only be achieved using implants to add volume and a new, more youthful contour to the bustline.
Recovery from a Body Lift vs. Mommy Makeover
While both options have a few key differences, recovery from a body lift and a Mommy Makeover are quite similar. Since both involve surgical procedures, patients are required to spend the first night of recovery in our facility. We will provide you with round-the-clock care and pain management to make you as comfortable as possible.
Once you return home, healing will take time. We will provide you with a list of everything you need post-op, including specific items that will be helpful in your home recovery. The amount of time it takes to recover from a body lift or a Mommy Makeover depends on how quickly your body can heal, but most patients can return to their normal activities within 8 weeks.
Most discomfort tends to decrease after the first 3-4 days, although swelling may last much longer. During the first two weeks, it's essential to rest and follow Dr. Larsen's instructions, plus you will have post-op follow-up appointments to make sure your incisions look good, and you're healing properly. 
Why Should I Choose Buckhead Plastic Surgery for My Body Lift or Mommy Makeover?
Dr. Larsen is a double board-certified plastic surgeon with years of experience. The professionals at Buckhead Plastic Surgery put the utmost priority on patient care and surgical precision. Dr. Larsen and his team have years of experience in various tummy tuck procedures and a list of 5-star reviews from previous patients. 
Contact us today at 404.367.9005 to book your consultation and see what a difference Buckhead Plastic Surgery can make in your life. No matter which option you choose, you will be thrilled with your new and improved body.