In this video, Double Board Plastic Surgeon, Alan N Larsen, MD updates his patients breasts with a remove & replace breast aug revision, and tightens up her mid section with a completely transforming body lift.
A mommy makeover is designed to rejuvenate the body and address the various changes experienced as a result of pregnancy and breastfeeding. Dr. Alan Larsen performs mommy makeover surgery on women ranging from 20 to 55. The procedure typically combines cosmetic breast surgery with a tummy tuck or body lift, and sometimes liposuction when needed.
In this Video…
Our patient, a mother of two, wanted to increase her breast size, and trade in her old firm saline implants for larger, silicone implants perfectly placed above the muscle, as suggested by Dr. Larsen, for a more natural look. Her original saline implants, size 325cc, were under the muscle, and started to feel firm under her arm. She chose to almost double her size with Allergan Natrelle silicone implants size 650 & 700.
At 5'1" and 130 pounds, our patient was also considering a tummy tuck to tighten the loose skin at her mid section. Upon examination, Dr. Larson recommended a body lift to address the skin laxity on her backside & flanks, helping her achieve a smooth hourglass contour. Unlike the tummy tuck procedure, which is performed in the front of the body, the body lift incision line is created in a complete circle all the way around the body, as you can see in the above surgery video.
During the procedure, Dr. Larsen creates an internal corset effect, when sewing up the abdominal muscles, by sitting his patient upright at a 90 degree angle, for the tightest possible body lift result.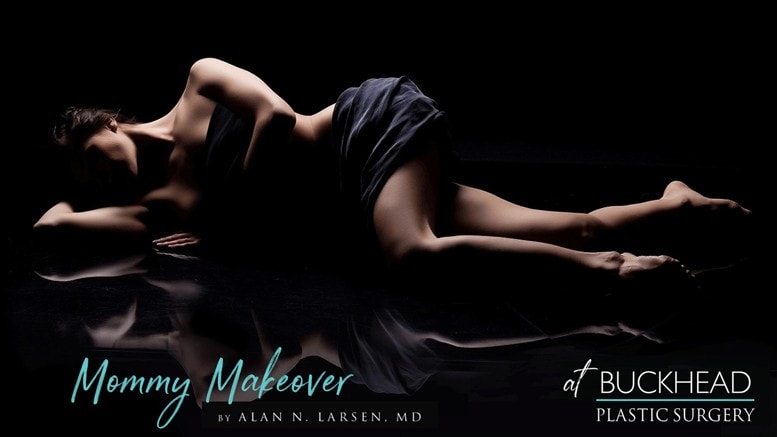 If you are interested in talking to Dr. Larsen about a mommy makeover procedure, call us today at 404.367.9005 to book your consultation. Let Dr. Larsen examine and present you with the options that will give your most optimal results. This is a perfect time to get your questions about all of the possible procedures involved answered and see before & after pictures from other patients just like you.