Have you decided to take your self-care to a new level and invest in clinical treatments like Halo, BBL, or MOXI? Good for you! Your skin deserves the very best, and the professionals at LUX Med Spa are excited to help you look your best with these beautiful procedures. 
Protecting Your Investment
If you've decided to invest in these unique skin treatments, you've seen for yourself the difference they can make in the appearance of your skin. The best way to protect your investment is by caring for your skin well with professional products at home. Not only can these products help your skin as it goes through the healing process, but they can help you maintain the impressive results you've gained.  
Our Lead Aesthetician & Laser Technician Natasha answers all of your MOXI Laser Questions in this complete FAQ video.
Best Skin Care for HALO and MOXI 
HALO and MOXI are two of our most popular treatments. HALO is a skin resurfacing laser that uses two distinct wavelengths (ablative and non-ablative). These wavelengths allow us to target your skin concerns on multiple levels. Utilizing this combination of technologies will enable us to eliminate years of damage by triggering your body's natural healing response and leaving you with a luminous glow!
MOXI is a procedure that comfortably delivers non-ablative fractionated laser energy to the skin to promote new cell growth and reduce unwanted pigment. As a result, MOXI allows you to correct uneven pigmentation and improve skin texture and tone without the lengthy downtime and recovery associated with more aggressive ablative laser procedures.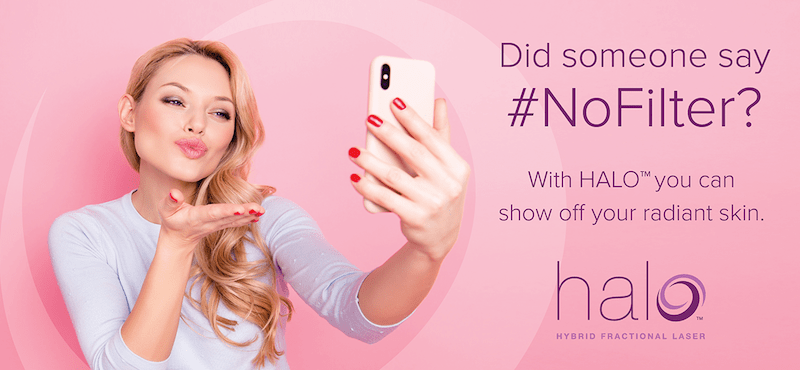 DEJ Face
This moisturizer is inspired by the Dermal-Epidermal Junction (DEJ), an essential factor in aging skin. This advanced skin-renewing moisturizer can firm and lift the skin while smoothing. This product uses a one-of-a-kind formula to deliver clinically proven results you'll have to see to believe. 
Hydrating Serum
This incredible product features not one but two forms of Hyaluronic Acid plus a blend of potent natural fruit extracts and antioxidants and peptides. This combination leaves the skin smooth and refreshed, just what you need! In addition, this ultra-lightweight serum absorbs instantly without leaving the skin feeling greasy. 
Intellishade Physical
This product is considered an all-inclusive moisturizer; it's designed to deliver five powerful anti-aging products in one. This moisturizer includes over twenty anti-aging ingredients and true mineral sunscreen capable of correcting, protecting, concealing, brightening, and hydrating the skin to deliver clinically proven results. This tiny bottle packs quite a punch for your anti-aging regimen.
Best Skin Care for BBL
BBL is a very popular corrective phototherapy treatment. This treatment utilizes Broadband Light (BBL) to target signs of aging, reverse sun damage, and treat other conditions. This process restores skin to its natural beauty making it clearer, smoother, and more vibrant. Protect that investment by adding these products to your home beauty regimen.

Our patient's lifelong freckles and sun damage have improved dramatically after her BBL procedure with Natasha.
DEJ Face
As we mentioned above, this product is a game changer. It visibly reduces fine lines and wrinkles and improves the texture and radiance of the skin. It even shields against environmental stressors. 
Hydrating Serum
We can't stop talking about this one. Because this unique formula provides both short and long-term moisturization, it reduces the appearance of fine lines and wrinkles and keeps the skin uniformly hydrated. It is a game changer. Of course, you're going to have to try it for yourself.
Intellishade Physical
This is a skincare power tool. It improves the appearance of fine lines and wrinkles, brightens and evens skin tone, and hydrates and moisturizes to enhance the skin's natural moisture barrier. 
Vitamin C
This product has been described as "the next generation of Vitamin C" because it can correct existing damage AND help defend your skin for the future. A perfect tool to use after BBL. 

What Is Revision Skincare?
Each of these products is produced by the impressive line Revision Skincare; it was started by John and Rob Muller more than 20 years ago. The company's goal is to provide targeted solutions for enhancing the skin's appearance and reducing the signs of aging. And they've built a reputation for many industry firsts. At LUX, we only want to give our patients the very best. And that's precisely why we love Revision Skincare; it's an excellent line of high-performing, clinically proven products, a perfect addition to your home beauty routine, and a great way to invest in the health of your skin. 
Why Should I work with LUX for all my skincare needs?
Dr. Larsen is a double board-certified plastic surgeon and has carefully assembled his team at LUX. He only works with the industry's best professionals, and the LUX team shares his high standards for excellence in patient care and optimal results. 
The team at LUX can not only create a treatment plan for you, but we can also meet all of your Med Spa needs. We pride ourselves on being on the cutting edge of technology and staying up to date with the latest products and best practices. So when you work with LUX, you'll always be getting the very best. 
You will be receiving treatments in our boutique, personalized spa. Our state-of-the-art nonsurgical cosmetic treatments are provided by a team of medical and aesthetic specialists. Our entire spa experience is designed for your comfort for optimal results. So call us today at 404.367.9005 to book your consultation and see what a difference a visit to LUX Med Spa could make for you.
The LUX Med Spa Membership Program is a great way to maintain a consistent skin care regimen at affordable prices.
LUXurious Skin Members can take advantage of exclusive savings every month on some of our medical spa's most popular treatments.
The LUX Med Spa Membership Program is a great way to maintain a consistent skin care regimen at affordable prices.
LUXurious Skin Members can take advantage of exclusive savings every month on some of our medical spa's most popular treatments.