Natrelle Implants (also known as the "gummy bear" implant) are available only to double-board certified plastic surgeons. Natrelle implants are growing in popularity because of their incredible array of options allowing you to customize your look. Natrelle offers 5 different profiles in 3 different gummy gels in 300 different options. No matter what your natural contours are, there is a Natrelle implant perfect for you. 
What are the pros and cons?
Natrelle offers both saline and silicone implants that can reshape and add fullness to patients who are naturally flat-chested, have lost volume from breastfeeding, or have experienced major weight loss. They are also commonly chosen by patients who have undergone a mastectomy. They come in an extremely wide range of silicone and saline implant sizes. The most popular are Natrelle Inspira silicone implants, known as gummy or gel implants. These implants come in varying levels of gel cohesiveness or texture which make them look and feel more natural. 
Natrelle implants also come with a warranty that covers implant replacement for the most common complications (Including things like Implant rupture and capsular contracture). 
The cons of this procedure are few. Like all breast augmentation surgeries, Natrelle implants are not covered by most health insurance companies. However, at Buckhead Plastic Surgery, we offer many patient financing options. 
Who Are Natrelle Implants for?
Everyone! There are many reasons patients might be interested in breast enhancement surgery. It is important to note that because of FDA regulations saline implants are the only option available to patients under the age of 22. For those patients over the age of 22, our silicone gel implants are extremely popular.
The best candidates for Natrelle implants are patients who are unhappy with their current breasts. This can be because of fullness, contours, asymmetry, or surgical reasons. Breast implants are only available to patients who are currently cancer-free, free of other infections in their body, and are not currently pregnant, or nursing. They are in good overall health, are non-smokers, and have maintained their weight for roughly a year. 
Natrelle implants are also a popular option for breast reconstruction after cancer treatment. If this is you, we want to make your healing journey as smooth as possible. Whether you are having immediate or delayed reconstructive surgery, Natrelle has safe and effective products to help you move forward and achieve exactly the look you want.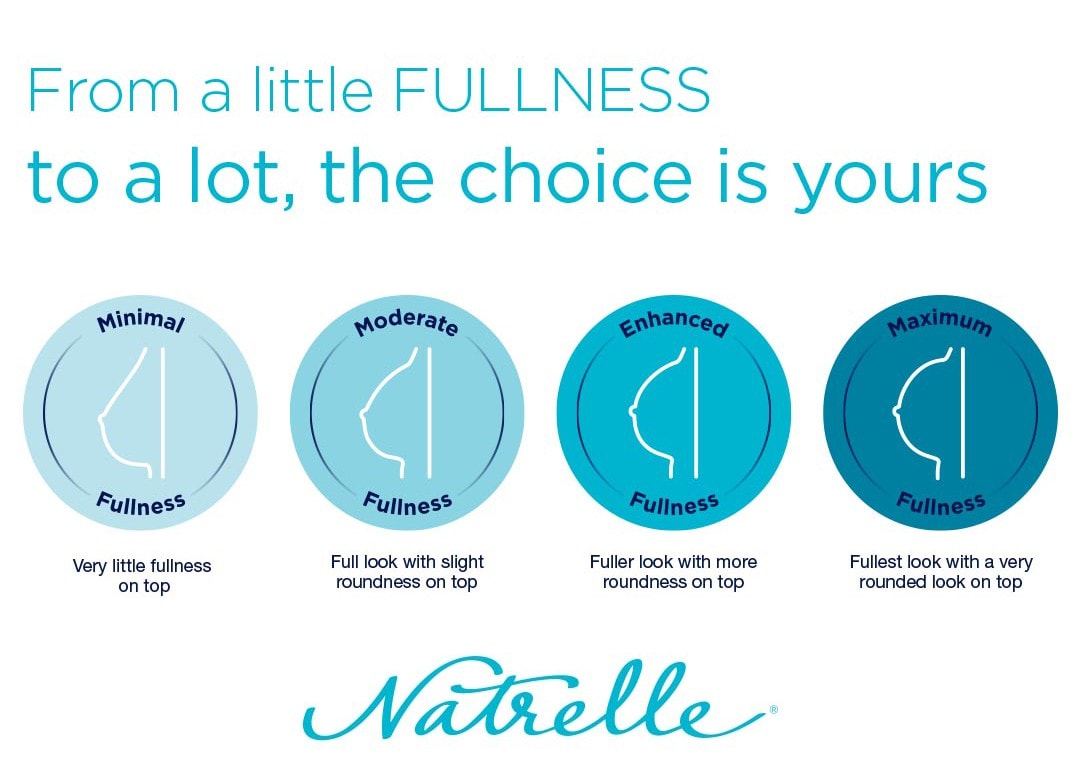 Are they textured?
Some patients are concerned about textured implants and the bad press they have received in ties to breast cancer. Natrelle used to offer both textured and smooth implants, however, as of 2019 Allergan has recalled all its textured implants as a response to an FDA request and they are no longer available on the market. Rest assured we take the health and safety of our patients extremely seriously. 
With a wide product line including both saline and gummy gels, they offer 5 different profiles. This means you can select the level of fullness that looks most attractive to you, allowing you to customize your look perfect for your frame and current body contours for the most flattering or natural look. 
Are they Safe?
Because of the amount of time breast implants have been on the market they have been one of the most studied and thoroughly researched medical devices available. Natrelle implants are FDA approved and now there is better data, provided to patients and doctors about new policies, safety, and risk factors than ever before. 
How much do Natrelle Implants Cost?
Breast augmentation surgery is one of the most commonly performed cosmetic procedures on the market. While exact prices vary based on each patient's needs, breast augmentation at Buckhead Plastic Surgery starts at $6,800.00. We offer many financing options to help you achieve your cosmetic goals sooner rather than later. Call us today with any questions. 
Get Started Today!
Call us today to set up your in-person or virtual consultation today! Dr. Larsen is a double board-certified plastic surgeon with over 20 years of experience. We want to provide the very best care to our patients and that means staying on the cutting edge of technology and new products that can provide better results for our patients. Dr. Larsen and our highly trained Cosmetic Consultants will be able to answer any questions you may have when you book a consultation with our office. You'll even be able to view before and after pictures of other patients just like you. 
Our talented team of professionals can set up a customized treatment plan with your goals in mind. You will be presented with all the options best suited for you and let you know about other additional treatments you could possibly benefit from. (Like Strattice, an Internal Bra that helps prevent rippling of breast implants!) We always want the very best for our patients and we will go above and beyond to make sure they have a positive experience. Don't wait another day, call now!