Many women consider breast implants for various reasons, but did you know that breast implants don't last forever? Although they do last a long time, they are not guaranteed to stay for the duration of your life, meaning that if you received implants, you might need revision surgery at some point in the future. The average lifespan of saline or silicone implants can last anywhere from 10 to 20 years. If you're checking your calendar now, don't worry, breast implants don't expire, but many are removed sooner due to complications or cosmetic concerns. 
How do I know when it's time to replace my breast implants? 
If you're unhappy with your breast implants look or are experiencing any of the following, it might be time for revision surgery. 
Hardening
Some patients develop capsular contracture or hardened scar tissue around one or both implants. Unfortunately, this can cause more than just cosmetic changes; it can also cause pain, tenderness, and a feeling of tightness in the chest.
Rupture
If you have saline implants, it's possible to experience an implant rupture. If a saline implant ruptures because of a tear or a hole, it will begin to deflate. The saline in your implant will leak out and be reabsorbed by your body; this leak can happen all at once or slowly over several days. The affected breast (or breasts) will look dramatically different as it loses its size and shape. 
Silicone implants can also rupture, but the gel will often stay inside the implant or surrounding scar tissue because the silicone gel is thicker than saline. Although most silicone ruptures go unnoticed, some patients notice hard knots, pain or tenderness, tingling, or an uneven appearance. 
Rippling
Occasionally rippling occurs when the implant wrinkles. The patient can feel these ripples when touching the breast in some cases. This is called palpability and, in extreme cases, can even be seen through the skin. If you can see or feel wrinkling in your implant, you might consider replacing it.

Rippling was remedied here by Dr Larsen using the Beautifill Fat Transfer & Liposuction System
Change of position
Breast implants don't prevent your breasts from sagging, and gravity will affect them as you age. Weight gain or loss (such as that surrounding pregnancy) can also cause stretching of the skin over the breasts and lead to sagging. 
Things to know about implant replacement surgery
One thing that is important to consider about breast surgery is choosing your surgeon wisely. Many patients don't realize that they don't have to work with the same surgeon for their revision surgery as they did for their original surgery (especially if they are unhappy with the results.) Dr. Larsen is a double-board certified plastic surgeon with years of experience in breast surgeries. He is extremely thorough with all of his procedures. 
Once you have chosen a surgeon, they will examine the implants you'd like to have replaced and present you with your surgical options during your initial consultation. These options may include implant removal, implant removal, a breast lift, reduction of scar tissue, or implant replacement without a breast lift. You also can change the size or material of the implants used. Your doctor will walk you through all the options and help you make an educated decision based on your treatment options. 
Why should I work with Buckhead Plastic Surgery for my breast revision surgery?
Dr. Larsen is a double board-certified plastic surgeon who has led a long and decorated career surpassing 25 years. Not only has he trained with the best surgeons in the country, but he has assembled a team known for their outstanding patient care and attention to detail. 
The entire team at Buckhead Plastic Surgery is focused on your comfort and satisfaction. So call us today at 404.367-9005 to schedule your consultation and determine what procedures would be perfect for you. You might be surprised how many options are available and what an improvement to your quality of life a simple procedure can provide!
Dr. Larsen's Breast Augmentation Reviews
See a few verified reviews showing why Dr. Larsen is the best breast augmentation plastic surgeon in Atlanta.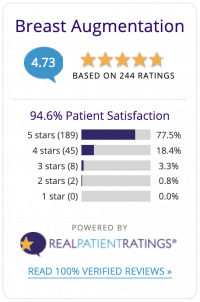 "Between Dr. Larsen, the ladies in his office and the medical staff at Northside, everyone was absolutely outstanding. Extremely knowledgable about the procedure, what to expect before and after surgery, anything between. Would recommend Dr. Larsen to anyone who was looking for a breast augmentation or the Med Spa for additional products."
"I was highly satisfied with my experience that I have referred 5 ppl to Dr. Larsen. From the beginning to the end I have had awesome communication with the staff as well as Dr. Larsen. I also have gone to the spa and done cool sculpting as well as some other procedures."
"My experience with Buckhead Plastic Surgery was amazing, from my consultation to all my follow up appointments it has been wonderful. The staff is always helpful and friendly. Dr. Larsen was amazing, he listened an answered all or my questions and always made me feel at ease. My results from my breast augmentation have been fantastic I love my new look!"