As one of the most popular types of cosmetic surgery, breast augmentation has undergone multiple stages of evolution, from what implants are made of to the way they're shaped. Women wishing to have their breasts enhanced now have various options for the type of implants they can get, including a more natural method that doesn't involve traditional silicone or saline implants.
This more natural method is called a fat transfer breast augmentation. This procedure involves taking fat from other parts of the body and injecting it into your breasts. Most patients choose to get fat transferred from "problem areas" like the abdomen, back, arms, and thighs.
Before considering a fat transfer augmentation, however, it's important to weigh the pros and cons of Fat Transfer Breast Augmentation to see if the procedure is right for you and your wants.
Pros
It's natural—if you have reservations about putting foreign substances in your body, then a fat transfer breast augmentation is a great way to get the procedure done without implants. What's more is since the fat is completely natural, you don't have to worry about your breasts looking and feeling unnatural.
Your entire body gets reshaped—since you're taking fat out of other parts of the body, then you get double the outcome. You lose fat in places you may have been wanting to lose fat from and you gain bigger breasts. Because of the liposuction involved in the fat transfer, you could end up with a flatter tummy, smaller love handles, and naturally enhanced breasts.
There are almost no scars—during the fat transfer procedure, the fat is injected into your breasts through very tiny incisions. These tiny incisions leave virtually no scarring, which only increases the natural look.
You don't have to worry about the complications from implants—implants come with the risks of rupturing, shifting, or collapsing, which can all come with serious side effects and expensive corrective procedures.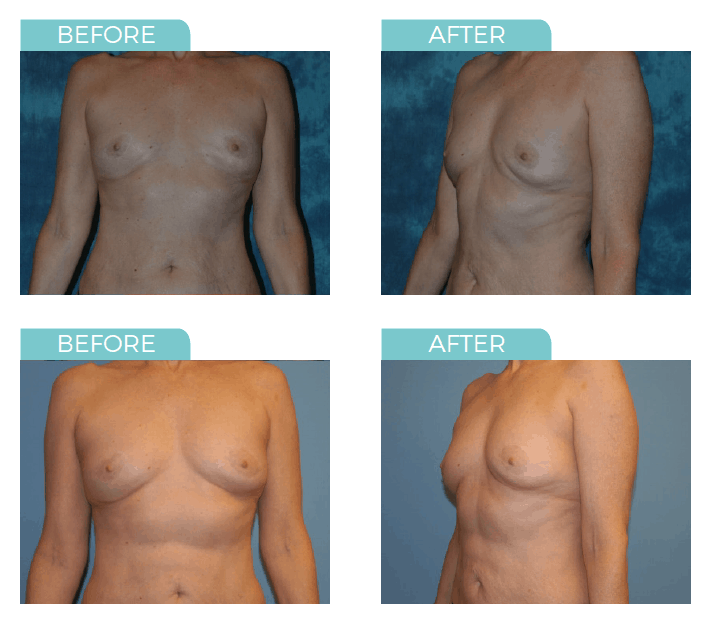 Cons
There's only so much enhancement you can get—through a fat transfer procedure, you can only enhance your breasts by one cup size. So, if you're hoping for a larger enhancement, this procedure may not be right for you.
The fat can be reabsorbed—plastic surgeons who practice this procedure try their hardest to ensure the fat survives its transfer. However, the body does what it does and may still reabsorb the fat, essentially diminishing the enhancement.
The breasts do not lift—unlike implants, fat does not prevent sagging that comes with aging, weight loss, pregnancy or genetics. Furthermore, implants typically provide a lifted look that fat transfer does not provide.
It costs more—since you're basically getting two procedures (liposuction and breast augmentation) fat transfer breast augmentation is more expensive than other breast augmentation procedures. It is usually about $5,000 to $10,000 more than traditional breast enhancement surgeries.
Interested in Learning More?
To get the process started, all you need to do is call Buckhead Plastic Surgery at (404)367-9005 or request a consultation online. Dr. Larsen will discuss your goals with you and recommend the right procedure to get you looking and feeling your best!