HALO

The World's First Hybrid Fractional Laser
Halo is the world's first and only Hybrid Fractional Laser that delivers a non-ablative and an ablative wavelength to the same microscopic treatment zone. Combining these two wavelengths creates a strong synergistic effect, resulting in ablative results with non-ablative downtime
Over time, your skin can lose its youthful glow due to sun exposure and your body's natural aging process. As a result, your body may develop sun spots, fine lines, and lose that natural healthy glow. Previous lasers couldn't effectively remove this damage, because the treatment was either too shallow or too deep. Halo eliminates years of damage by precisely targeting the right depth. Halo restores the luminous glow you had when you were younger.
THE HALO GLOW
Everyone's skin is different. Everyone's needs are different. Halo allows your clinician to customize your treatment to fit your lifestyle. Need to be back at work tomorrow? A light treatment creates smooth, vibrant skin that's ready for makeup the next day. Want to WOW them? A more intense treatment will give your skin that youthful glow with just a few days of downtime.
What is a Hybrid Fractional Laser?
A hybrid fractional laser delivers both ablative and non-ablative wavelengths to the same or different microscopic treatment zones to provide ablative results, with non-ablative downtime.

The Best of Both Worlds
Ablative Results. Non-Ablative Downtime.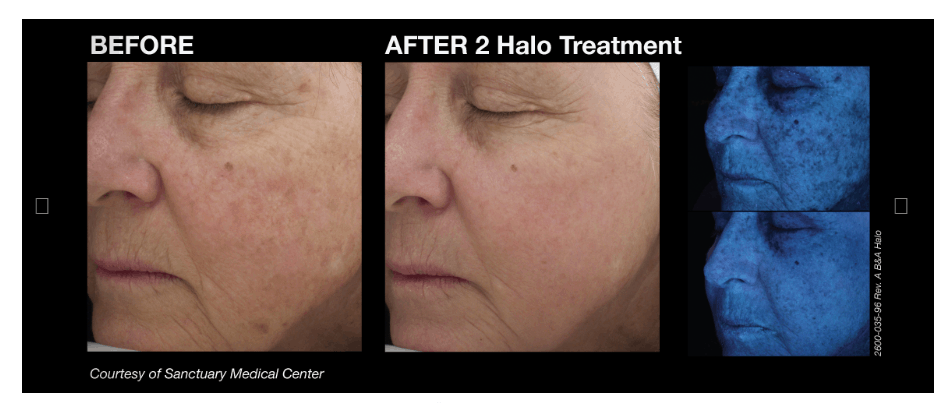 Great Results with Minimal Downtime
In the past, you had to choose between a procedure that offered really great results but required a lengthy recovery, or a procedure with a fast recovery but marginal results. Now with Halo you get the best of both worlds: great results with minimal downtime. Halo combines deep dermal rejuvenation with epidermal renewal for a combined synergistic effect you can't get with any other treatment. Halo creates beautiful results without the downtime of more aggressive treatments.
Halo precisely targets years of damage to your skin, including:
Halo provides an unmatched patient experience in the world of laser resurfacing. The combination of low downtime, amazing results, and an easy, comfortable treatment makes for extremely happy patients.
Customizable treatment to precisely target skin damage

Improvement in the appearance of tone, texture, fine lines and wrinkles

Reduces pore size and increases reflectivity and glow

Flexibility in treatment levels and downtime
"My skin now feels like it did back in high school. It is so smooth and luminous and I feel like I can't see the pores on my face anymore. I've never felt and looked better."
"The best part of my Halo treatment was how easy it was! I have done a few laser and light treatments in the past, but nothing came close. To be able to have a treatment with minimal discomfort, be able to go out the next day and still get results was amazing!"
"Over the years, I have always worried about how much damage I've done to my skin. My freckles turned into brown spots and my pores were large. Halo not only made my skin feel and look amazing but it also reversed the internal sun damage. Halo hit the spot!"
The new science of beauty
HALO'S unique hybrid fractional technology repairs the damaging effects of aging and turns back the clock on age-related skin damage by tightening, toning and addressing surface complexion issues. Recapture your youthful, glowing skin in only 1-2 treatments with little to no downtime.
AREA
FULL FACE
NECK & CHEST
NECK
CHEST
HANDS
ARMS
SINGLE
$1200-$1700
$1200
$600
$800
$500
$800
PACKAGE OF 2
$2160-$3060
$2160
$1080
$1440
$900
$1440
The before-and-after photos of Dr. Larsen's actual patients showcase the kind of results he consistently achieves.
Don't miss out on our unique events and special pricing on treatments at Buckhead Plastic Surgery and LUX Med Spa.