Does the face you see in the mirror reflect how you feel inside? The aging process breaks down connective fibers like collagen and elastin, along with a loss of fat that can result in sagging, loose skin that wrinkles easily. If you yearn for the smooth, plump, taut face of your youth, you may be excited to know the LUX Med Spa offers non-surgical facelift and necklift procedures. 
By using the perfect combination of injectables, you can refresh, restore and add beauty to your face with what we refer to as a "liquid facelift." The result is reduced wrinkles, increased facial volume, and removal of under-the-chin fat.
What is a Liquid Facelift?
Our master injectors perform a "liquid facelift" at LUX Med Spa and will tailor a treatment to match your specific aesthetic goals. We use fillers, Botox, and Kybella to achieve fantastic results. Most fillers last 6-18 months depending on the filler, and Botox only needs to be touched up every 3-4 months. Kybella, the injectable used to remove under-the-chin fat, is permanent as long as your weight stays the same.
The results of our liquid facelift aren't quite as dramatic and long-lasting as a surgical facelift and neck lift. However, the immediate results provide a refreshed and youthful look with little to no downtime, which our busy patients appreciate.
Hyaluronic Acid Fillers for a Liquid Facelift
Facial rejuvenation in the form of a liquid facelift can safely and easily be achieved with dermal fillers. Various fillers are popular for different reasons, and LUX Med Spa will choose the perfect one for you to get your desired facelift results.
Injectable hyaluronic acid (HA) is a popular temporary dermal filler that adds volume to specific areas of your face. The almost immediate results give you a more youthful appearance, the hallmark of the non-invasive facelift.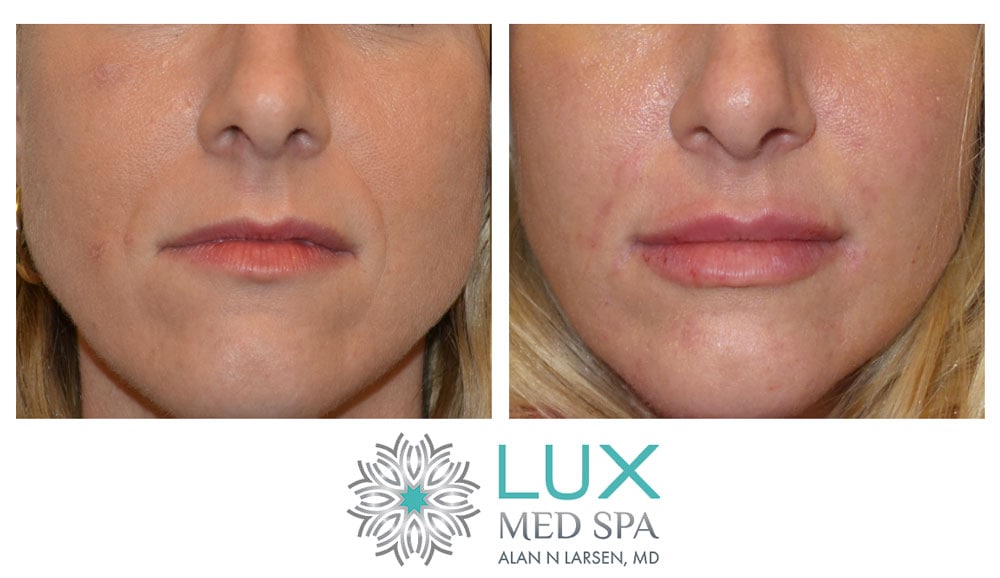 Types of HA Fillers
Hyaluronic acid is found naturally throughout the body. When used as a filler, hyaluronic acid attracts water, which allows the skin to become more hydrated with a more plump appearance. This filler is ideal for reducing the appearance of fine lines, wrinkles, and facial folds. Plus, it can be used to create structure, framework, and volume to the face and lips, which is why it's ideal for stunning liquid facelift results.
At Lux Med Spa, we have achieved Diamond status from Allergan, the maker of JUVÉDERM products with HA fillers including: JUVÉDERM®, JUVÉDERM® Ultra XC, JUVÉDERM®, VOLUMA® XC, JUVÉDERM® VOLBELLA® XC and JUVÉDERM® VOLLURE™ XC. Only about 3% of providers in the U.S. achieve this status based on the volume of Allergan products used. This means our injectors have an extremely high level of experience using these products and that we have earned a reputation as a trusted provider.
We are also proud to offer our patients the Restylane® family of products. Restylane products can also be ideal for a liquid facelift with HA fillers like RESTYLANE® Lyft, Defyne, Refyne, and Restylane® Kysse). With over 40 million treatments worldwide, the Restylane hyaluronic acid fillers line provides natural-looking results.
At LUX Med Spa, we will choose the fillers best suited for you to achieve the non-surgical facelift and necklift of your dreams. 
How Botox Can Give You Facelift Results
A little bit of BOTOX can go a long way towards improving fine lines and wrinkles, which is why it's the perfect addition to your liquid facelift treatment. Our LUX staff knows precisely where and how much BOTOX should be injected to provide each patient with the desired outcome without a frozen or unnatural appearance.
BOTOX will gently relax the underlying facial muscles that contract as you change expressions to enhance your non-surgical facelift results further. BOTOX can be used on the forehead, on crow's feet, on the chin area, between the eyebrows, and even around the lips. Depending on how quickly your body metabolizes it, BOTOX injections must be done every 3-4 months.
Non-Invasive Necklift with KYBELLA
In addition to fillers and BOTOX, your liquid facelift will include the injectable KYBELLA to slim and sculpt your jawline, giving you the benefits of a non-invasive neck lift. 
Stubborn fat below the chin is a common problem for many men and women. It can be related to aging, genetics, or weight gain. Even at a healthy weight, men and women often struggle with the appearance of a double chin. Adding KYBELLA to your liquid facelift can enhance your youthful appearance by dissolving the excess submental (below the chin) fat. KYBELLA uses a naturally occurring chemical (deoxycholic acid) to destroy problem fat cells beneath the chin. When injected, your body begins naturally eliminating this excess fat, gradually leaving behind a slim and well-sculpted chin and jawline.
Why Should I Work with Lux Med Spa?
Dr. Alan Larsen is a double board-certified plastic surgeon and has carefully assembled his team at LUX. The LUX team shares his high standards for excellence in patient care and optimal results. 
The team at LUX can not only create a treatment plan for you, but we can also meet all of your MedSpa needs. We pride ourselves on the cutting edge of technology and staying up to date with the latest products and best practices. So when you work with LUX, you'll always be getting the very best. 
You will be receiving treatments in our boutique, personalized spa where our entire spa experience is designed for your comfort for optimal results. Our state-of-the-art non-surgical cosmetic treatments are provided by a team of medical and aesthetic specialists. So contact us today online, press the button below to book your own aesthetic treatments or call us at 404.367.9005 to book your consultation and see what a difference a visit to LUX Med Spa could make for you.
The LUX Med Spa Membership Program is a great way to maintain a consistent skin care regimen at affordable prices.
LUXurious Skin Members can take advantage of exclusive savings every month on some of our medical spa's most popular treatments.
The LUX Med Spa Membership Program is a great way to maintain a consistent skin care regimen at affordable prices.
LUXurious Skin Members can take advantage of exclusive savings every month on some of our medical spa's most popular treatments.