What is a total facelift?
The term facelift is often used incorrectly or misunderstood. Facelifts can be divided into a forehead lift, midface lift, and a lower facelift with the neck lift as yet another procedure. Although these can be performed individually, many patients choose to combine them. 
Patients tend to assume that a typical facelift treats all regions of the face and neck. In reality, a "facelift" surgery usually treats the lower two-thirds of the face. Meaning everything below the tops of the ears. An upper facelift (often called a brow lift) is a separate procedure.  A Total Facelift is a combination of all these areas, along with the neck in one procedure. 
A Total Facelift is a surgical procedure with the goal of improving the visible signs of aging on the face and neck. This can Include sagging skin, deepening fold lines around the corners of the mouth and nose, hanging areas around the jaws and cheeks, fat deposits that have fallen giving a hollow appearance to the cheeks and under-eye areas, and loose skin and excess fat on the neck that gives the appearance of a double chin.
It's common for patients to consider a Total Facelift for various reasons including the loss of the youthful contours of the face. The visible signs of aging can be contributed to various factors including the natural thinning of the skin, loss of facial fat, effects of gravity, stress or environment, sun damage as well as our genetic makeup and heredity. 
Who is a good candidate for a total facelift?
The best candidates for a Total Facelift are healthy individuals who do not suffer from medical conditions that can impair healing. Non-smokers, and individuals who have both a positive outlook and realistic expectations of what is possible with cosmetic surgeries. 
What is a forehead lift?
A forehead lift, (commonly known as a brow lift) is a cosmetic procedure that reduces lines and wrinkles that develop across the forehead by removing excess and sagging skin and repositioning the underlying muscle and tissue. Along with those that occur commonly on the bridge of the nose or between the eyes. It can improve the expression of frown lines and the vertical creases that develop between the eyebrows which can give you the appearance of being tired or stressed. It can raise sagging brows that are causing the upper eyelids to have a hooded appearance. And it places eyebrows in an alert and youthful position.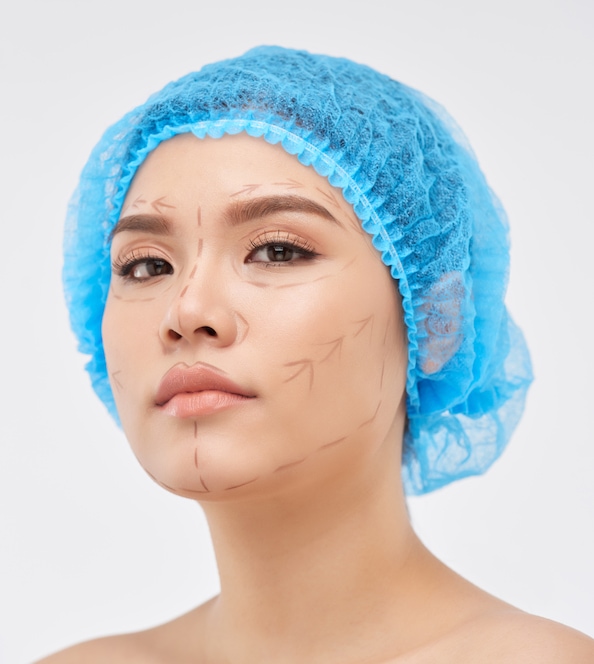 What is a midface lift?
The term "midface" is used to describe the area of the face from the corners of your eyes to the corners of your mouth, including the areas of the nose, cheeks and upper area above your lip. A midface lift can improve the appearance of fine lines and wrinkles by removing excess skin as well as repositioning the fatty tissue under the skin to a more pleasing contour. 
What is a neck lift?
A neck lift (sometimes referred to as a lower rhytidectomy) is a cosmetic procedure that improves the visible signs of aging along the jawline and neck. This surgery typically addresses issues including excess fat and hanging skin on the lower face. Along with excess fatty deposits under the chin, and can tighten loose neck skin and improve the appearance of muscle banding in the neck, which creates abnormal contours.
The loss of the youthful contours of the neck and face can occur from various factors including heredity, environmental conditions, stress, and gravity. Some people choose to consider a neck lift along with their facelift when they notice excess wrinkling of the neck skin, a double chin or simply to avoid the neck area not matching the upper facial contours. 
What are the results like?
The results of Total Facelifts are different for each patient. Although excellent results are always expected, your individual results will be based on the surgical techniques used, the desired results, and your body and bone structure as well as your skin's elasticity and ability to heal. 
Most patients feel like they are presentable within 10-14 days of their surgery. However, it typically takes 2-3 months for the face to fully heal and feel normal again. As the swelling and bruising subside, the visible improvements of your procedures will appear. Your final results will provide you with a more youthful appearance and often an improvement to your confidence.
Of course, no procedure can stop the aging process, so it is important to follow Dr. Larsen's instructions to ensure the success of your surgery and prolong the results for as long as possible. Continuing to live a healthy lifestyle and using daily sun protection is extremely important. To increase the longevity of your total facelift, LUX Med Spa offers injectables, fillers, laser treatments, and high quality skincare products to maintain your more youthful appearance. 
What is recovery like?
The most difficult part of recovery for most patients is the first night after surgery, which is why we require an overnight stay. This way you'll receive round the clock professional care to ensure your comfort and medical care. After the first night, you should expect some discomfort, but it can usually be managed with pain medication. 
After the next week or so the bruising and skin discoloration resolves, swelling will decrease and you will notice your new facial features. Each patient's healing process is slightly different but you should expect your facial skin to feel a bit tight. It will eventually return to normal as the healing process continues. A full return to activity is expected by 6 weeks and in roughly 3 months your results will likely reveal your new youthful and natural-looking appearance. 
Why You Should Work With Dr. Larsen for Your Total Facelift
Patients have been turning to Buckhead Plastic Surgery for years. Dr. Larsen is a double board-certified plastic surgeon with over 20 years of cosmetic surgery experience. His patients appreciate his honest and direct approach. He will spend time providing you with the best options for optimal and natural-looking results. He will answer all your questions to make you feel as relaxed and at ease as possible as you prepare for your procedure. Call us today to set up your consultation and realize what a difference Buckhead Plastic Surgery can create in your life.