It's so common as we age to carry a bit more weight around our mid-sections. Although tummy tucks are popular surgeries for both men and women, women, in particular, are often curious about the effect of a tummy tuck on the size of their waist. It's especially common for women to be interested in this procedure after having children. The natural changes can leave you feeling less like yourself, and you might notice your clothes fitting differently. Although we believe all bodies are reasonable, we want you to feel confident when looking in the mirror. Sometimes a procedure like a tummy tuck can help you find the confidence you're looking for. 
Most patients are interested in a tummy tuck to reduce the amount of excess tissue or fat carried on the abdomen. However, some patients are curious about recontouring their bodies to create a more noticeable or smaller waistline and want to know if that is possible with this surgery. The answer is yes; when you work with a double board-certified plastic surgeon like Dr. Larsen, this type of result is possible with a tummy tuck. 
If you're looking for a classic feminine hourglass type figure, a skilled surgeon can help you achieve this. In fact, not only can you reduce your waist circumference, but you can also enhance your breast and your buttocks so your whole silhouette can be closer to your ideal shape. 
Body Sculpting
The tummy tuck alone will remove excess skin and tissue from the abdomen. It's common to pair this procedure with liposuction. Adding selective body contouring, involving additional liposuction around the hips and back, can create a beautiful shape and enhance your natural curves. 
Intentional Suturing
During a standard tummy tuck procedure, the abdominal muscles are tightened. This is accomplished by placing permanent sutures within the abdominal structure. The effects of this are a tighter, leaner-looking abdomen. This also helps during the healing process as this internal suturing can help provide abdominal stability. But most patients appreciate the leaner look that is gained in addition to liposuction.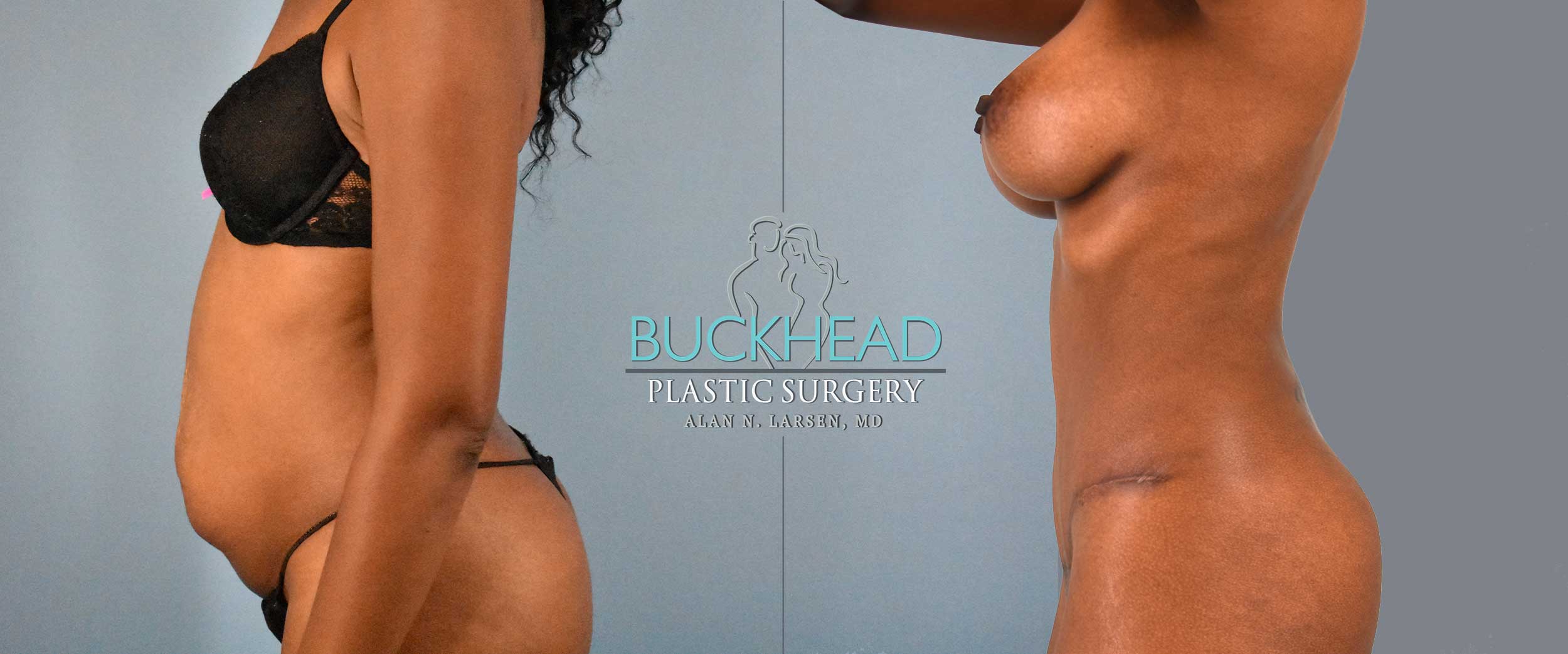 How do your natural curves affect your results?
Ultimately the body you start with will determine the results you achieve. Even the most talented plastic surgeons cannot change your natural anatomy. One thing that sets Dr. Larsen apart is his talent for working with a patient's natural anatomy to achieve optimal results, enhancing a patient's natural beauty. While a tummy tuck can improve your natural body, it's easier to accentuate an hourglass shape on someone who has gained a few pounds than to create an hourglass shape on someone who lacks curves and has a more straight body type.
However, if this is a concern, curves can still be added by performing other procedures such as a breast exam or a Brazilian butt lift surgery. The best way to understand which strategies will benefit your specific body type is by booking a free consultation. Our talented staff will answer your questions and help you determine an optimal treatment plan to help you reach your goals. 
Are there non-surgical options?
Although a tummy tuck will give you the most dramatic results, less invasive options are available if you aren't ready for an extensive surgical procedure. For example, BeautiFill is an excellent option for fat transfer. This is a surgical procedure but not as invasive as a tummy tuck; you can remove fat from one body area and transfer it to another area. If you are curious about a tummy tuck but are on the fence, many people start with BeautiFill. 
 Body contouring is a rapidly growing industry, and both Buckhead Plastic Surgery and LUX Med Spa have a few options available. Accent Prime is one of our more popular non-invasive body sculpting options. You can call our offices to learn more about these procedures.
Why should I choose Buckhead Plastic Surgery for my tummy tuck?
Dr. Larsen is a double board-certified plastic surgeon with years of experience and many excellent reviews for this specific procedure. In addition, he has carefully chosen a staff member who shares his people-first attitude to ensure your comfort throughout the entire procedure. 
Dr. Larsen prides himself on communicating clearly and providing you with realistic options for your optimal results. He takes great pride in his surgical skill and is known for his kind and direct approach with his patients. 
If you are interested in talking to Dr. Larsen about a Tummy Tuck or Mommy Makeover procedure, call us today at 404.367.9005 to book your consultation. Let Dr. Larsen examine and present you with the options that will give your most optimal results. This is a perfect time to get your questions about all of the possible procedures involved answered and see before & after pictures from other patients just like you.